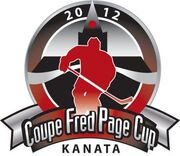 This is the 2011-12 Fred Page Cup tournament hosted by the city of Kanata, Ontario and was played at the Kanata Recreational Complex. The tournament decided the winner of Eastern Canadian Junior A and the winner moved on to the 2012 Royal Bank Cup.
2012 Fred Page Cup Tournament
Edit
Round Robin
Edit
Tie Breaker: Head-to-Head, then 3-way +/-.
April 25
Princeville 0 @ Nepean 4
Kanata 3 @ Woodstock 4
April 26
Woodstock 5 @ Princeville 3
Kanata 2 @ Nepean 1 OT
April 27
Woodstock 3 @ Nepean 2
Kanata 7 @ Princeville 4
Semi and Finals
Edit
April 28 and 29
Team Photos
Edit
Ad blocker interference detected!
Wikia is a free-to-use site that makes money from advertising. We have a modified experience for viewers using ad blockers

Wikia is not accessible if you've made further modifications. Remove the custom ad blocker rule(s) and the page will load as expected.