Ad blocker interference detected!
Wikia is a free-to-use site that makes money from advertising. We have a modified experience for viewers using ad blockers

Wikia is not accessible if you've made further modifications. Remove the custom ad blocker rule(s) and the page will load as expected.
This is the 2012-13 Midwest Collegiate Hockey Association season. This was the league's 15th and final season.
After the season all conference members join the Northern Collegiate Hockey Association when that conference had already lost 5 of its' members to the newly formed Wisconsin Intercollegiate Athletic Conference.
Membership Changes
Edit
Standings
Edit
Southern Division

Conference Standings
Overall Record
Team
GP
W
L
T
GF
GA
P
GP
W
L
T
GF
GA
Marian Sabres
20
12
8
0
57
52
24
26
13
12
1
66
65
Lawrence Vikings
20
6
11
3
68
65
16
27
8
16
3
85
97
Northland Lumberjacks
20
7
13
0
67
107
14
27
10
17
1
89
140
Finlandia Lions
20
7
13
0
55
74
14
25
7
18
0
60
96
Northern Division
Conference Standings
Overall Record
Team
GP
W
L
T
GF
GA
P
GP
W
L
T
GF
GA
Adrian Bulldogs
20
17
0
3
99
41
37
28
23
2
3
137
62
Milwaukee School of Eng. Raiders
20
12
6
2
69
48
26
29
17
10
2
88
65
Lake Forest Foresters
20
6
10
4
52
58
16
27
10
12
5
70
72
Concordia Falcons
     20
      7
     13
4
55
77
14
25
7
18
0
68
109
Conference Tournament
Edit
First Round
Edit
Northland defeated Lawrence 2 games to 1 (0-3, 5-2, 1-0)
MSOE defeated Lake Forest 2 games to 1 (3-2, 0-2, 1-0)
Semifinals
Edit
Adrian defeated Northland 8-0
MSOE defeated Marian 1-0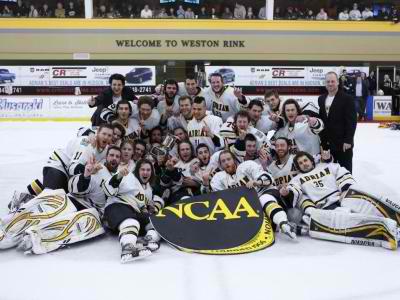 NCAA Tournament
Edit