The Notre Dame Hounds claimed the 2011 Esso Cup as they defeated the Edmonton Thunder by a 5-2 tally.[1] In the championship game, Howe contributed with a goal and an assist.[2]
Medal round
Edit
Bronze medal game
Edit
| | | | | |
| --- | --- | --- | --- | --- |
| Teams | Score | Toronto scorers | Kodiaks scorers | Notes |
| Kodiaks du Lac St. Louis vs. Toronto Aeros | 4-0, Toronto | Jordan McDonell, Lauren Wildfang, Victoria Andreakos, Caitlin Maikawa | None | Shutout by Taylor Hough[3] |
Gold medal game
Edit
| | | | | |
| --- | --- | --- | --- | --- |
| Teams | Score | Notre Dame scorers | Edmonton scorers | Notes |
| Notre Dame Hounds vs. Edmonton Thunder | 5-2, Notre Dame[4] | Jennifer More, Courtenay Jacklin, Brittany Berisoff, Jennifer More, Olivia Howe | Heather Kashman, Jessica Sekulic | Game dedicated to Notre Dame alum Mandi Schwartz |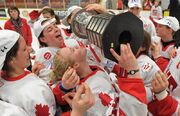 Awards and honors
Edit
The Isobel Gathorne-Hardy Award was also awarded at the Esso Cup. The award recognizes an active female player who demonstrates dedication and leadership in the game. The 2011 recipient was Nancy MacMillan of West Prince, P.E.I.
Morgan Glover, Edmonton Thunder, Top Goaltender
Morgan Glover, Edmonton Thunder, Most Valuable Player
Olivia Howe, Notre Dame Hounds, Top Forward, 2011 Esso Cup[5]
Olivia Howe, Notre Dame Hounds, Top Scorer, 2011 Esso Cup
Emma Korbs, Toronto Aeros, Top Defender
Matana Skoye, St. Albert Slash, Most Sportsmanlike Player
Players of the Game
Edit
Victoria Andreakos, Toronto, Bronze medal game
Olivia Bishop, Kodiaks du St. Louis, Bronze medal game
Jennifer More, Notre Dame, Gold medal game
Heather Kashman, Edmonton, Gold medal game
References
Edit
Ad blocker interference detected!
Wikia is a free-to-use site that makes money from advertising. We have a modified experience for viewers using ad blockers

Wikia is not accessible if you've made further modifications. Remove the custom ad blocker rule(s) and the page will load as expected.