Ad blocker interference detected!
Wikia is a free-to-use site that makes money from advertising. We have a modified experience for viewers using ad blockers

Wikia is not accessible if you've made further modifications. Remove the custom ad blocker rule(s) and the page will load as expected.
The 2011 Canada Winter Games womens hockey tournament will be contested from February 20 to 26, 2011. The games will be competed at the Halifax Metro Centre, Halifax Forum, and Dartmouth Sportsplex in Nova Scotia.
Standings
Edit
| | | | | |
| --- | --- | --- | --- | --- |
| Team | GP | W | L | T |
| Alberta | 4 | 4 | 0 | 0 |
| BC | | | | |
| Newfoundland | | | | |
| Ontario | | | | |
| Saskatchewan | | | | |
| | | | | |
| --- | --- | --- | --- | --- |
| Team | GP | W | L | T |
| Manitoba | | | | |
| New Brunswick | | | | |
| Nova Scotia | | | | |
| PEI | | | | |
| Quebec | | | | |
| Yukon | | | | |
| | | | | |
| --- | --- | --- | --- | --- |
| Date | Game # | Teams | Score | Notes |
| Feb 20 | 1 | Alberta vs. BC | 4-0[1] | |
| Feb 20 | 3 | Nfld vs. Sask | 0-3[2] | |
| Feb 20 | 5 | BC vs. Ont | 1-4[3] | |
| Feb 21 | 7 | Alberta vs. Nfld | 10-0[4] | |
| Feb 21 | 9 | Ont vs. Sask | | |
| Feb 22 | 12 | Alberta vs. Sask | | |
| Feb 22 | 14 | BC vs. Nfld | | |
| Feb 22 | 16 | Alberta vs. Ont | | |
| Feb 23 | 18 | BC vs. Sask | | |
| Feb 23 | 20 | Nfld vs. Ontario | | |
| | | | | |
| --- | --- | --- | --- | --- |
| Date | Game # | Teams | Score | Notes |
| Feb 20 | 2 | Manitoba vs. NB | | |
| Feb 20 | 4 | Quebec vs. Yukon | | |
| Feb 20 | 6 | Nova Scotia vs. PEI | | |
| Feb 21 | 8 | Manitoba vs. Yukon | | |
| Feb 21 | 10 | NB vs. PEI | | |
| Feb 21 | 11 | NS vs. Quebec | | |
| Feb 22 | 13 | NB vs. Yukon | | |
| Feb 22 | 15 | PEI vs. Quebec | | |
| Feb 22 | 17 | Manitoba vs. NS | | |
| Feb 23 | 19 | Manitoba vs. PEI | | |
| Feb 23 | 21 | NB vs. Quebec | | |
| Feb 23 | 22 | NS vs. Yukon | | |
Relegation
Edit
| | | | | |
| --- | --- | --- | --- | --- |
| Date | Game # | Teams | Score | Notes |
| Feb 24 | 27 | 10th vs 11th | | |
| Feb 24 | 23 | 4A vs 1B | | |
| Feb 24 | 24 | 3A vs 2B | | |
| Feb 24 | 25 | 2A vs 3B | | |
| Feb 24 | 26 | 1A vs 4B | | |
Placement
Edit
| | | | | |
| --- | --- | --- | --- | --- |
| Date | Game # | Teams | Score | Notes |
| Feb 25 | 28 | 9th vs 10th | | |
| Feb 25 | 29 | 6th vs 7th | | |
| Feb 25 | 30 | 5th vs 8th | | |
| Feb 26 | 33 | 9th vs 11th | | |
| Feb 26 | 34 | W29 vs W30 | | |
| Feb 26 | 35 | L29 vs L30 | | |
Medal Round
Edit
Semi-finals
Edit
Game reference
Amanda Makela[6]
Goalies
Ann-Renée Desbiens


Emily Fulton, Nicole Kosta
Sarah Lefort, Nicole Gass
Game reference
Emerance Maschmeyer[7]
Goalies
Krista Funke


Amy Helfrich, Erika Sowchuk, Melissa Kueber, Katy Josephs, Bryanne Panchuk, Heather Kashman
Jessica Sibley, Ellen Lind
Bronze Medal Match
Edit
Game reference
Ann-Renée Desbiens[8]
Goalies
Krista Funke


Gaby Davidson (2), Vickie Lemire, Laurence Porlier
Lauren Zary, Emily Clark, Kennedy Ottenbreit
Gold Medal Match
Edit
Scoring leaders
Edit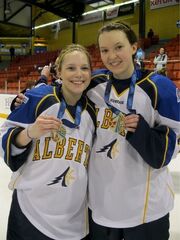 | | |
| --- | --- |
| | = Indicates tournament leader |
Awards and honors
Edit
| | | |
| --- | --- | --- |
| No | Player | Hometown |
| 4 | Brittney Fouracres | Leduc, AB |
| 5 | Jessica Kampjes | Bon Accord |
| 6 | Liz Hillier | Edmonton |
| 7 | Vaila Higson | Grande Prairie |
| 8 | Amy Helfrich | Cochrane |
| 9 | Erika Sowchuk | Cochrane |
| 10 | Taryn Baumgardt | Innisfail |
| 11 | Eden Murray | Medicine Hat |
| 13 | Melissa Kueber | St. Albert |
| 14 | Katy Josephs | Calgary |
| 15 | Arden Cowley | Edmonton |
| 16 | Hannah Mousek | Olds |
| 17 | Kelly Murray | Medicine Hat |
| 18 | Taylor Sakundiak | Calgary |
| 19 | Karlee Odland | Vauxhall |
| 20 | Sam Sutherland | Cochrane |
| 21 | Bryanne Panchuk | Calgary |
| 22 | Heather Kashman | Edmonton |
| 31 | Courtney Vinet | Camrose |
| 35 | Emerance Maschmeyer | Bruderehim |
| | | |
| --- | --- | --- |
| No | Player | Hometown |
| 1 | Chantal Lischynski | Arnaud |
| 2 | Haili Krzyzaniak | Neepawa |
| 3 | Natasha Kostenko | Fannystelle |
| 4 | Rebecca Babiak | Winnipeg |
| 5 | Danielle Leslie | Winnipeg |
| 6 | Skye Kelly | Brandon |
| 7 | Ashley Brykaliuck | Brandon |
| 8 | Tess Houston | Winnipeg |
| 9 | Kristine Grenier | St. Leon |
| 10 | Cailey Hay | Oakbank |
| 11 | Jessica Carswell | Winnipeg |
| 12 | Alexis Woloschuk | Winnipeg |
| 13 | Shelby Bram | Ste. Anne |
| 14 | Kiara De Kezel | Deloraine |
| 15 | Meghan Dufault | Winnipeg |
| 16 | Tori Williams | The Pas |
| 17 | Brooklyn Langlois | Steinbach |
| 18 | Jennifer More | Deloraine |
| 19 | Kayleigh Weins | Winkler |
| 35 | Abby Ryplanski | Winnipeg |
| | | |
| --- | --- | --- |
| No | Player | Hometown |
| 3 | Sarah Edney | Mississauga |
| 5 | Katarina Zgraja | Waterloo |
| 6 | Jennifer Shields | Ingersoll |
| 7 | Laura Stacey | Kleinburg |
| 8 | Kayla Raniwsky | Windsor |
| 9 | Abby McRae | London |
| 13 | Erin Ambrose | Keswick |
| 15 | Danielle Gagne | Brampton |
| 16 | Sarah Jayne Robson | Mississauga |
| 17 | Emily Fulton | Stratford |
| 18 | Cayley Lynne Mercer | Exeter |
| 19 | Gina Repaci | Etobicoke |
| 21 | Nicole Kosta | Mississauga |
| 25 | Becca Kohler | St.Thomas |
| 26 | Caroline Luczak | Midhurst |
| 27 | Nicky Connery | Newmarket |
| 29 | Brianna Quade | Newcastle |
| 34 | Amanda Makela | Thunder Bay |
| 88 | Hailey Browne | Oakville |
| 91 | Brittany Zuback | Thunder Bay |
| | | |
| --- | --- | --- |
| No | Player | Hometown |
| | | |
| 5 | Genevieve Legault | Sainte-Julie |
| 6 | Gen Bannon | Candiac |
| 7 | Laurie Mercier | Rouyn-Noranda |
| 9 | Sarah Lefort | Ormstown |
| 11 | Gaby Davidson | Pointe-Claire |
| 12 | Catherine Daoust | Ile-Bizard |
| 13 | Alex Lapointe | Ville Mercier |
| 17 | Vickie Lemire | Hudson |
| 18 | Nicole Gass | |
| 19 | Catherine Dubois | Quebec City |
| 20 | Melodie Bouchard | Sept-Iles |
| 21 | Chelsea Ziadie | Pointe-Claire |
| 22 | Laurence Porlier | Maria |
| 24 | Camille Pauck-Therien | Boucherville |
| 25 | Maxie Plante | Magog |
| 26 | Valerie Bouillon | Victoriaville |
| 27 | Valerie St-Onge | Brossard |
| 28 | Abbey Frazier | Montreal |
| 30 | Ann-Renee Desbiens | La Malbaie |
| 31 | Jamie Leonoff | Montreal |
References
Edit