2011–12 Ohio State Buckeyes women's ice hockey season
Talk

0
Share
Ad blocker interference detected!
Wikia is a free-to-use site that makes money from advertising. We have a modified experience for viewers using ad blockers

Wikia is not accessible if you've made further modifications. Remove the custom ad blocker rule(s) and the page will load as expected.
The Ohio State Buckeyes women's hockey team will represent Ohio State University in the 2011–12 NCAA Division I women's ice hockey season. The Buckeyes will attempt to win their first NCAA women's Frozen Four championship.
Offseason
Edit
News and notes
Edit
Recruiting
Edit
| | | | |
| --- | --- | --- | --- |
| Player | Nationality | Position | Notes |
| Stacy Danczak |  United States | Goaltender | Played with the Ohio Flames |
| Danielle Gagne |  Canada | Forward | Gagne competed with the Mississauga Chiefs |
| Taylor Kuehl |  United States | Forward | She was a member of the United States Under 18 national team |
| Kari Schmitt |  United States | Defense | She competed with Belle Tire in Michigan |
| Sara Schmitt |  United States | Defense | She competed with Belle Tire in Michigan |
| Kayla Sullivan |  United States | Forward | Played hockey at Shattuck-Saint Mary's |
Exhibition
Edit
Regular season
Edit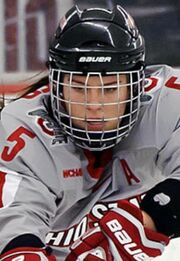 Standings
Edit
| | | | | |
| --- | --- | --- | --- | --- |
| Date | Opponent | Location | Time | Score |
| 10/07/11 | vs. Bemidji St | Columbus, Ohio | 7:07 p.m. ET | |
| 10/08/11 | vs. Bemidji St | Columbus, Ohio | 4:07 p.m. ET | |
| 10/14/11 | vs. St. Cloud State | Columbus, Ohio | 7:07 p.m. ET | |
| 10/15/11 | vs. St. Cloud State | Columbus, Ohio | 4:07 p.m. ET | |
| 10/21/11 | at North Dakota | Grand Forks, N.D. | 8:07 p.m. ET | |
| 10/22/11 | at North Dakota | Grand Forks, N.D. | 8:07 p.m. ET | |
| 10/28/11 | at Minnesota State | Mankato, Minn. | 8:07 p.m. ET | |
| 10/29/11 | at Minnesota State | Mankato, Minn. | 4:07 p.m. ET | |
| 11/04/11 | vs. Wisconsin | Columbus, Ohio | 7:07 p.m. ET | |
| 11/05/11 | vs. Wisconsin | Columbus, Ohio | 7:07 p.m. ET | |
| 11/18/11 | at Syracuse | Syracuse, N.Y. | 7:00 p.m. ET | |
| 11/19/11 | at Syracuse | Syracuse, N.Y. | 4:00 p.m. ET | |
| 11/25/11 | vs. Minnesota Duluth | Columbus, Ohio | 7:07 p.m. ET | |
| 11/26/11 | vs. Minnesota Duluth | Columbus, Ohio | 4:07 p.m. ET | |
| 12/02/11 | vs. Niagara | Columbus, Ohio | 7:07 p.m. ET | |
| 12/03/11 | vs. Niagara | Columbus, Ohio | 2:07 p.m. ET | |
| 12/10/11 | at Minnesota | Minneapolis, Minn. | 3:07 p.m. ET | |
| 12/11/11 | at Minnesota | Minneapolis, Minn. | 3:07 p.m. ET | |
| 12/30/11 | vs. Princeton | Columbus, Ohio | 4:07 p.m. ET | |
| 12/31/11 | vs. Princeton | Columbus, Ohio | 2:07 p.m. ET | |
| 01/06/12 | at St. Cloud State | St. Cloud, Minn. | 8:07 p.m. ET | |
| 01/07/12 | at St. Cloud State | St. Cloud, Minn. | 5:07 p.m. ET | |
| 01/13/12 | at Bemidji St | Bemidji, Minn. | 8:07 p.m. ET | |
| 01/14/12 | at Bemidji St | Bemidji, Minn. | 8:07 p.m. ET | |
| 01/20/12 | vs. Minnesota State | Columbus, Ohio | 7:07 p.m. ET | |
| 01/21/12 | vs. Minnesota State | Columbus, Ohio | 4:07 p.m. ET | |
| 01/27/12 | vs. North Dakota | Columbus, Ohio | 7:07 p.m. ET | |
| 01/28/12 | vs. North Dakota | Columbus, Ohio | 4:07 p.m. ET | |
| 02/03/12 | at Minnesota Duluth | Duluth, Minn. | 8:07 p.m. ET | |
| 02/04/12 | at Minnesota Duluth | Duluth, Minn. | 8:07 p.m. ET | |
| 02/10/12 | vs. Minnesota | Columbus, Ohio | 7:07 p.m. ET | |
| 02/11/12 | vs. Minnesota | Columbus, Ohio | 4:07 p.m. ET | |
| 02/17/12 | at Wisconsin | Madison, Wisc. | 3:07 p.m. ET | |
| 02/18/12 | at Wisconsin | Madison, Wisc. | 3:07 p.m. ET | |
Conference record
Edit
| | |
| --- | --- |
| WCHA school | Record |
| Bemidji State | |
| Minnesota | |
| Minnesota State | |
| Minnesota Duluth | |
| North Dakota | |
| St. Cloud State | |
| Wisconsin | |
Awards and honors
Edit
Natalie Spooner, WCHA Co-Offensive Player of the Week (Week of October 12, 2011)[3]
References
Edit