2011–12 Dartmouth Big Green women's ice hockey season
Talk

0
Share
Ad blocker interference detected!
Wikia is a free-to-use site that makes money from advertising. We have a modified experience for viewers using ad blockers

Wikia is not accessible if you've made further modifications. Remove the custom ad blocker rule(s) and the page will load as expected.
Offseason
Edit
News and notes
Edit
May 25, 2011: Darmouth goaltender Lindsay Holdcroft competed at the Warren Strelow National Team Goaltending Camp in Ann Arbor, Michigan. Holdcroft was one of six ECAC goaltenders to compete in the camp.[1]
June 9, 2011: Holly Tyng has been promoted to associate head coach.[2]
June 20, 2011: Former Dartmouth player Correne Bredin was named as a mentor and ambassador to help promote women's hockey as part of the IIHF Ambassador and Mentor Program (AMP).[3]
Recruiting
Edit
| | | | |
| --- | --- | --- | --- |
| Player | Nationality | Position | Notes |
| | | | |
Regular season
Edit
January 10: The Dartmouth Big Green and Providence Friars played each other in an outdoor game at Fenway Park in Boston. Providence skater Brooke Simpson scored her first career NCAA goal.[4] With 1:14 remaining in regulation, Big Green forward Camille Dumais scored the game winning goal on Providence netminder Genevieve Lacasse as the Big Green prevailed by a 3-2 mark.[5]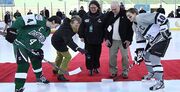 | | | | | | | |
| --- | --- | --- | --- | --- | --- | --- |
| Date | Opponent | Location | Time | Score | Record | Big Green scorers |
| Fri, Oct 21 | McGill (Exh.) | Hanover, N.H. | 5:00 pm | | | |
| Sun, Oct 23 | Boston College | at Chestnut Hill, Mass. | 2:00 pm | | | |
| Fri, Oct 28 | Clarkson * | at Potsdam, N.Y. | 7:00 pm | | | |
| Sat, Oct 29 | St. Lawrence * | at Canton, N.Y. | 4:00 pm | | | |
| Sun, Nov 06 | NEW HAMPSHIRE | Hanover, N.H. | 2:00 pm | | | |
| Fri, Nov 11 | Cornell * | at Ithaca, N.Y. | 7:00 pm | | | |
| Sat, Nov 12 | Colgate * | at Hamilton, N.Y. | 4:00 pm | | | |
| Fri, Nov 18 | ST. LAWRENCE * | Hanover, N.H. | 7:00 pm | | | |
| Sat, Nov 19 | CLARKSON * | Hanover, N.H. | 4:00 pm | | | |
| Wed, Nov 23 | Harvard * | at Cambridge, Mass. | 7:00 pm | | | |
| Sat, Nov 26 | NORTHEASTERN | Hanover, N.H. | 7:00 pm | | | |
| Wed, Nov 30 | HARVARD * | Hanover, N.H. | 7:00 pm | | | |
| Sun, Dec 11 | New Hampshire | at Durham, N.H. | 2:00 pm | | | |
| Sat, Dec 31 | Providence | at Providence, R.I. | 2:00 pm | | | |
| Tue, Jan 03 | VERMONT | Hanover, N.H. | 7:00 pm | | | |
| Fri, Jan 06 | Quinnipiac * | at Hamden, Conn. | 7:00 pm | | | |
| Sat, Jan 07 | Princeton * | at Princeton, N.J. | 4:00 pm | | | |
| Fri, Jan 13 | RENSSELAER * | Hanover, N.H. | 7:00 pm | | | |
| Sat, Jan 14 | UNION * | Hanover, N.H. | 4:00 pm | | | |
| Fri, Jan 20 | COLGATE * | Hanover, N.H. | 7:00 pm | | | |
| Sat, Jan 21 | CORNELL * | Hanover, N.H. | 4:00 pm | | | |
| Fri, Jan 27 | Brown * | at Providence, R.I. | 7:00 pm | | | |
| Sat, Jan 28 | Yale * | at New Haven, Conn. | 4:00 pm | | | |
| Fri, Feb 03 | PRINCETON * | Hanover, N.H. | 7:00 pm | | | |
| Sat, Feb 04 | QUINNIPIAC * | Hanover, N.H. | 4:00 pm | | | |
| Fri, Feb 10 | at Union * | at Schenectady, N.Y. | 7:00 pm | | | |
| Sat, Feb 11 | Rensselaer * | at Troy, N.Y. | 4:00 pm | | | |
| Fri, Feb 17 | YALE * | Hanover, N.H. | 7:00 pm | | | |
| Sat, Feb 18 | BROWN * | Hanover, N.H. | 4:00 pm | | | |
Player stats
Edit
Awards and honors
Edit
References
Edit