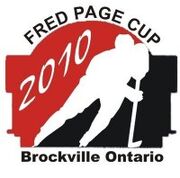 The 2010 Fred Page Cup was hosted by the Brockville Braves and the City of Brockville, Ontario. The winner moved on to the 2010 Royal Bank Cup.
Tournament
Edit
Round Robin
Edit
Tie Breaker: Head-to-Head, then 3-way +/-.
April 21
Pembroke 6 - Terrebonne 5 OT
Brockville 6 - Woodstock 0
April 22
Terrebonne 6 - Woodstock 2
Brockville 2 - Pembroke 1
April 23
Pembroke 7 - Woodstock 4
Brockville 5 - Terrebonne 2
Semi and Finals
Edit
April 24 and 25
Brockville Braves move on to 2010 Royal Bank Cup.
Team Photos
Edit
Ad blocker interference detected!
Wikia is a free-to-use site that makes money from advertising. We have a modified experience for viewers using ad blockers

Wikia is not accessible if you've made further modifications. Remove the custom ad blocker rule(s) and the page will load as expected.