2010–11 New Hampshire Wildcats women's ice hockey season
Talk

0
Share
Ad blocker interference detected!
Wikia is a free-to-use site that makes money from advertising. We have a modified experience for viewers using ad blockers

Wikia is not accessible if you've made further modifications. Remove the custom ad blocker rule(s) and the page will load as expected.
Offseason
Edit
June 7: After two seasons with the Minnesota Golden Gophers, Jamie Wood has become an associate head coach with New Hampshire.[1]
Regular season
Edit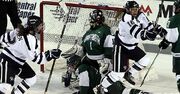 Dec 11: Lindsey Minton made 28 saves to record her fourth shutout of the season. Wildcats forward Nicole Gifford broke a scoreless tie with 6:12 remaining in the game. It would prove to be the game winner as New Hampshire prevailed by a 1-0 margin to score a non-conference victory against Dartmouth College at the Whittemore Center.[2]
| | | | | |
| --- | --- | --- | --- | --- |
| Date | Opponent | Time | Score | Record |
| Sat Oct. 2 | at Connecticut * | 1:00 PM | | |
| Fri Oct. 8 | at Syracuse | 7:00 PM | | |
| Sat Oct. 9 | at Colgate | 4:00 PM | | |
| Fri Oct. 15 | at Rensselaer | 7:00 PM | | |
| Sat Oct. 16 | at Union | 4:00 PM | | |
| Fri Oct. 22 | Clarkson | 7:00 PM | | |
| Sat Oct. 23 | St. Lawrence | 5:00 PM | | |
| Fri Oct. 29 | Niagara | 7:00 PM | | |
| Sat Oct. 30 | Niagara | 2:00 PM | | |
| Sat Nov. 6 | Vermont * | 5:00 PM | | |
| Sun Nov. 7 | at Boston U. * | 4:00 PM | | |
| Sat Nov. 13 | Connecticut * | 2:00 PM | | |
| Sun Nov. 14 | at Connecticut * | 1:00 PM | | |
| Tue Nov. 23 | at Maine (at Lewiston, Maine) | 7:30 PM | | |
| Sun Nov. 28 | Boston College * | 2:00 PM | | |
| Wed Dec. 1 | Northeastern * | 7:00 PM | | |
| Sat Dec. 4 | at Providence * | 1:00 PM | | |
| Thu Dec. 9 | Harvard | 7:00 PM | | |
| Sat Dec. 11 | Dartmouth | 2:00 PM | | |
| Sun Jan. 9 | Northeastern * | 2:00 PM | | |
| Fri Jan. 14 | Providence * | 7:00 PM | | |
| Sat Jan. 15 | at Providence * | 7:00 PM | | |
| Tue Jan. 18 | at Quinnipiac | 7:00 PM | | |
| Sat Jan. 22 | at Northeastern * | 2:00 PM | | |
| Sat Jan. 29 | Maine * | 2:00 PM | | |
| Sun Jan. 30 | Maine * | 2:00 PM | | |
| Thu Feb. 3 | at Boston U. * | 7:00 PM | | |
| Sat Feb. 5 | Boston U. * | 2:00 PM | | |
| Fri Feb. 11 | at Vermont * | 7:00 PM | | |
| Sat Feb. 12 | at Vermont * | 4:00 PM | | |
| Sat Feb. 19 | at Boston College * | 2:00 PM | | |
| Sun Feb. 20 | Boston College * | 2:00 PM | | |
Player stats
Edit
Postseason
Edit
Awards and honors
Edit
References
Edit