Ad blocker interference detected!
Wikia is a free-to-use site that makes money from advertising. We have a modified experience for viewers using ad blockers

Wikia is not accessible if you've made further modifications. Remove the custom ad blocker rule(s) and the page will load as expected.
On August 12, 2010, the CWHL announced that the city of Boston would receive an expansion team for the 2010–11 CWHL season. The unnamed team will practice at Ristuccia Arena in Wilmington.[1]
Offseason
Edit
CWHL Draft
Edit
The Boston club was able to protect some players from being selected from their roster in the 2010 CWHL Draft.
Protected players
Edit
Regular season
Edit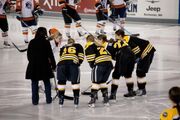 Dec 19: The Blades came from behind to defeat Montreal. In doing so, they broke up Montreal's bid for an undefeated season. Boston goalie Mandy Cronin stopped 74 shots to lead Boston to victory. Montreal had an early 2-0 lead. In the 2nd period, Blades player Sam Faber scored on an assist by Jess Koizumi. In the third period, Koizumi would tie the game. With 3:24 to play in the game, Angela Ruggiero scored the game winning goal. She was assisted by Sam Faber and Haley Moore.[4]
| | | | |
| --- | --- | --- | --- |
| Date | Opponent | Score | Record |
| October 30, 2010 | Burlington | 3-0 | 1-0-0 |
| October 31, 2010 | Burlington | 6-0 | 2-0-0 |
| November 20, 2010 | Burlington | 1-5 | 2-1-0 |
| November 21, 2010 | Toronto | 4-2 | 3-1-0 |
| November 27, 2010 | Montreal | 2-3 | 3-2-0 |
| November 28, 2010 | Montreal | 2-4 | 3-3-0 |
| December 4, 2010 | Burlington | 4-3 | 4-3-0 |
| December 5, 2010 | Burlington | 1-2 | 4-4-0 |
| December 11, 2010 | Toronto | 6-4 | 5-4-0 |
| December 12, 2010 | Toronto | 4-3 | 6-4-0 |
| December 18, 2010 | Montreal | 2-10 | 6-5-0 |
| December 19, 2010 | Montreal | 3-2 | 7-5-0 |
| January 8, 2011 | Brampton | 3-5 | 7-6-0 |
| January 9, 2011 | Toronto | 4-9 | 7-7-0 |
| January 15, 2011 | Brampton | | |
| January 16, 2011 | Brampton | | |
| January 22, 2011 | Burlington | | |
| January 23, 2011 | Brampton | | |
| January 29, 2011 | Montreal | | |
| January 30, 2011 | Montreal | | |
| February 5, 2011 | Toronto | | |
| February 6, 2011 | Toronto | | |
| February 12, 2011 | Brampton | | |
| February 13, 2011 | Brampton | | |
References
Edit