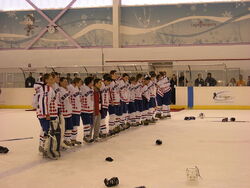 The 2009 IIHF World U20 Championship Division II will take place between December 15 and December 21, 2008 in Miercurea-Ciuc, Romania and between January 10 to January 15 in Logroño, Spain. Teams are divided into two groups, with Group A playing in Romania, and Group B playing in Spain. The winner of each group will be promoted to Division I for the 2010 IIHF World U20 Championship, while the last place teams in each group will be relegated to Division III for the 2010 IIHF World U20 Championship.
2009 World Junior Ice Hockey Championships - Division II
Ad blocker interference detected!
Wikia is a free-to-use site that makes money from advertising. We have a modified experience for viewers using ad blockers

Wikia is not accessible if you've made further modifications. Remove the custom ad blocker rule(s) and the page will load as expected.