The 2009-10 South African National Team season was the 21st season of the South African National Team.

2009–10 Game Log
Legend:       Win       Loss       Tie
Tournament results
Edit
Player statistics
Edit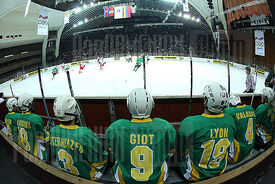 Goaltenders
Edit
2009-10 South African National Team goaltenders statistics
#
Player
GP
W
L
T
SO
Goals
Saves
GAA
Minutes
SV%
20
Jack Nebe
3
1
2
0
0
12
109
3.89
185
.901
1
Adam de Carvalho
1
1
0
0
0
2
17
2.00
60
.895

Legend:       Senior player       U18 player
References
Edit
Ad blocker interference detected!
Wikia is a free-to-use site that makes money from advertising. We have a modified experience for viewers using ad blockers

Wikia is not accessible if you've made further modifications. Remove the custom ad blocker rule(s) and the page will load as expected.