2009–10 Montreal Carabins women's ice hockey season
Talk

0
Share
Ad blocker interference detected!
Wikia is a free-to-use site that makes money from advertising. We have a modified experience for viewers using ad blockers

Wikia is not accessible if you've made further modifications. Remove the custom ad blocker rule(s) and the page will load as expected.
The 2009-10 Montreal Carabins women's ice hockey season was their first season competing in the CIS. Their 13-6-1 conference record ranked second during the QSSF regular season. Overall, the Carabins had a won loss record of 15 wins, nine losses, and one tie. In their first season in the CIS, the Carabins qualified for the CIS National Championship tournament.[1]
Conference standings
Edit
Conference
GP
W
L
T
GF
GA
PTS
McGill
20
20
0
0
79
18
40
Montréal
20
13
6
1
58
55
27
Ottawa
20
8
11
1
51
67
17
Carleton
20
8
12
0
39
47
16
Concordia
20
1
16
3
35
75
5
| | | | | |
| --- | --- | --- | --- | --- |
| Date | Time | Opponent | Location | Score |
| October 16 | 7pm | Concordia | CEPSUM | 4-1 |
| October 17 | 7pm | @ Carleton | Ottawa | 1-0 |
| October 23 | 7pm | Ottawa | CEPSUM | 3-2 |
| October 25 | 3pm | @ Concordia | Montréal | 4-3 (OT) |
| October 30 | 7pm | McGill | CEPSUM | 2-7 |
| November 1 | 2pm | Carleton | CEPSUM | 4-2 |
| November 7 | 2pm | @ McGill | Montréal | 2-3 (OT) |
| November 13 | 7pm | Ottawa | CEPSUM | 4-1 |
| November 15 | 3pm | @ Concordia | Montréal | 3-2 (OT) |
| November 27 | 7pm | McGill | CEPSUM | 1-5 |
| November 29 | 2pm | Carleton | CEPSUM | 4-3 |
| January 10 | 2pm | Carleton | CEPSUM | 3-0 |
| January 15 | 7pm | Concordia | CEPSUM | 8-2 |
| January 16 | 6pm | @ Ottawa | Ottawa | 2-5 |
| January 22 | 7pm | @ McGill | Montréal | 0-3 |
| January 24 | 3pm | @ Concordia | Montréal | 5-3 |
| January 30 | 2pm | @ Ottawa | Ottawa | 2-4 |
| February 14 | 1pm | @ Carleton | Ottawa | 3-2 |
| February 19 | 7pm | McGill | CEPSUM | 1-6 |
| February 20 | 6pm | @ Ottawa | Ottawa | 2-1 |
[2]
Player stats
Edit
#
Name
Pos
GP
G
A
PTS
PIM
PPG
SHG
9
Kim Deschenes
F
20
14
14
28
12
4
0
94
Marie-Andree Leclerc-Auger
F
18
12
12
24
42
2
0
87
Amanda Lalande
F
20
7
12
19
12
3
0
4
Annie-Claude Dumas
F
20
5
6
11
6
1
0
27
Jessica Gagne
F
20
3
6
9
12
0
0
7
Marie-Helene Suc
D
18
3
4
7
18
3
0
11
Fabienne Marcotte
F
20
3
4
7
6
0
0
40
Caroline Martin-Guay
F
20
2
5
7
16
0
0
10
Josee-Ann Deschenes
D 20
2 4
6
8
0
0
18
Edith Aubert-Lehoux
D
20
3
1
4
8
3
0
5
Pascale Leblanc
D
19
0
4
4
10
0
0
8
Stephanie Daneau
D
18
1
2
3
14
0
0
17
Audrey Fortin
F
20
1
2
3
8
0
0
Awards and honors
Edit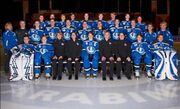 Kim Deschênes Forward, QSSF 1st all-star team
Marie-Hélène Suc Defence, QSSF 1st all-star team
Marie-Andrée Leclerc-Auger Forward, QSSF 2nd all-star team
Kim Deschênes, QSSF Rookie of the year
References
Edit