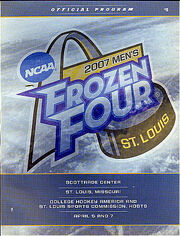 The 2007 Frozen Four was held April 5-7, 2007 in St. Louis, Missouri at the Savvis Center. It was the first Frozen Four held in St. Louis since 1975.
Semifinals
Michigan State 4 Maine 2
Boston College 6 North Dakota 4
Championship
Michigan State 3 Boston College 1

Michigan State head coach Rick Comley became the third coach to win the championship with two different schools (Northern Michigan in 1991). The others are Ned Harkness (RPI and Cornell) and the coach Comley defeated in the championship game Jerry York (Bowling Green and Boston College).
The Eagles became the first team to lose two consecutive championship games after falling in the 2006 Final to Wisconsin.
Frozen Four MOP Justin Abdelkader's goal with 18.9 seconds left in the third period stands as the latest game-winning goal scored in regulation time. Chris Mueller scored an empty net goal to make the final 3-1.
Team Photos
Edit
Ad blocker interference detected!
Wikia is a free-to-use site that makes money from advertising. We have a modified experience for viewers using ad blockers

Wikia is not accessible if you've made further modifications. Remove the custom ad blocker rule(s) and the page will load as expected.