This is the 2004-05 Atlantic Junior Hockey League season.
Franchise changes
Edit
Standings
Edit
Held March 11-13, 2005 at the Salem ICenter, Salem, New Hampshire
Quarterfinals
Edit
Washington Jr. Nationals vs Northern Mass Cyclones (unknown result)
New Jersey Rockets defeated Portland Jr. Pirates
Semifinals
Edit
Boston Bulldogs defeated (washington or Northern Mass) unknown result)
New York Bobcats defeated New Jersey Rockets 11-2
Boston Bulldogs defeated New York Bobcats 4-1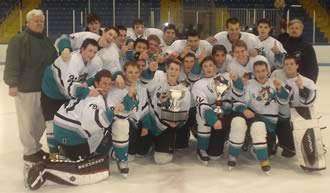 Ad blocker interference detected!
Wikia is a free-to-use site that makes money from advertising. We have a modified experience for viewers using ad blockers

Wikia is not accessible if you've made further modifications. Remove the custom ad blocker rule(s) and the page will load as expected.