2003 World Junior Ice Hockey Championships
Talk

0
Share
Ad blocker interference detected!
Wikia is a free-to-use site that makes money from advertising. We have a modified experience for viewers using ad blockers

Wikia is not accessible if you've made further modifications. Remove the custom ad blocker rule(s) and the page will load as expected.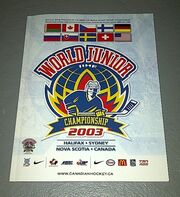 The 2003 World Junior (Under 20) Ice Hockey Championships (2003 WHJC) were held between December 26, 2002 and January 5, 2003 in Halifax and Sydney, Nova Scotia, Canada. The Russian team won gold, Canada silver, and Finland bronze.
Final standings
Edit
Relegation Round
Edit
January 2
Edit
January 3
Edit
January 4
Edit
Germany and Belarus are relegated to Division I for the 2004 World Junior Ice Hockey Championships.
Playoff round
Edit
Quarter-finals
Edit
January 2
Semi-finals
Edit
January 3
5th place game
Edit
January 4
Bronze medal game
Edit
January 5
Gold medal game
Edit
January 5
Scoring leaders
Edit
Player
Nationality
GP
G
A
Pts
PIM
Patrik Bartschi
 Switzerland
6
6
4
10
0
Igor Grigorenko
 Russia
6
6
4
10
4
Yuri Trubachev
 Russia
6
3
7
10
2
Tuomo Ruutu
 Finland
7
2
8
10
6
Carlo Colaiacovo
Canada
6
1
9
10
2
Alexander Perezhogin
 Russia
6
3
6
9
4
Jussi Jokinen
 Finland
7
6
2
8
2
Zach Parise
 United States
7
4
4
8
4
Alexander Polushin
 Russia
6
2
6
8
4
[[Andrei UPSHALL

Goaltending leaders

Edit

(Minimum 90 minutes played)

Team Photos

Edit

Division I

Edit

The Division I Championships were played December 27, 2002 - January 2, 2003 in Almaty, Kazakhstan (Group A) and December 16 - December 22, 2002 in Bled, Slovenia (Group B)

Standings

Edit

Austria and Ukraine advance to the 2004 World Junior Ice Hockey Championships, Croatia and Poland are relegated to Division II

Division II

Edit

The Division II Championships were played January 6, 2003-January 12, 2003 in Miercurea-Ciuc, Romania (Group A) and December 28, 2002-January 3, 2003 in Novi Sad Yugoslavia (Group B)

Standings

Edit

Hungary and Estonia advance to the 2004 Division I Championships, Bulgaria and Mexico are relegated to the 2004 Division III Championships'

Division III

Edit

The Division III Championships were held January 21-January 26, 2003 in Izmit, Turkey

Standings

Edit

Korea and Belgium advance to 2005 Division II Championships

External links

Edit