This is the 2003 Royal Bank Cup, hosted by Charlottetown, Prince Edward Island, Canada. The winner is emblematic of Canadian Jr. A Hockey supremacy.
Round Robin
Edit
Tie Breaker: Head-to-Head, then 3-way +/-.
Lennoxville defeated Charlottetown 5-4 (2ot)
Humboldt defeated Wellington 4-1
Charlottetown defeated Camrose 3-2
Lonnoxville defeated Humboldt 5-4 (2ot)
Camrose defeated Wellington 7-1
Wellington defeated Charlottetown 1-0 (ot)
Camrose defeated Lennoxville 4-1
Humboldt defeated Charlottetown 8-5
Wellington defeated Lennoxville 5-2
Camrose defeated Humboldt 5-3
Semi and Finals
Edit
 
Semi-finals
Royal Bank Cup Finals
 
 
 
 
 
 
 
 
 
1
Camrose
2
 
4
Lennoxville
1
 
 
 
1
Camrose
1
 
2
Humboldt
3
2
Humboldt
3
3
Wellington
2
 
National Playdowns Flowchart
Edit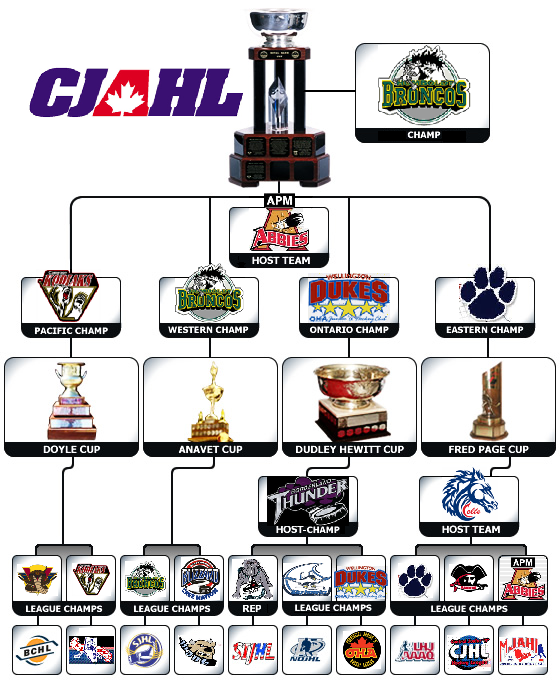 Ad blocker interference detected!
Wikia is a free-to-use site that makes money from advertising. We have a modified experience for viewers using ad blockers

Wikia is not accessible if you've made further modifications. Remove the custom ad blocker rule(s) and the page will load as expected.