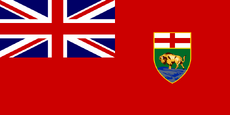 For the 2002-03 season, Hockey Manitoba awarded the
Provincial Championship, the Baldy Northcott Trophy,
to the winner of the Provincial Junior B Final Five Tournament.

The winner and runner-up from both the Manitoba Junior B Hockey League and the Northwest Junior Hockey League, plus a host team from one of the two leagues participates.

The event was hosted by the North Winnipeg Satelites March 28th to 30th, and held at the Billy Mosienko Arena in Winnipeg, Manitoba.




Games Results
St. Claude defeated North Winnipeg 4-3
Norway House defeated St. Claude 11-5
Selkirk defeated St. Claude 3-1
St. Claude defeated NCN 6-3
Bronze Metal Game
Team
Goals
St. Claude Knights
9
Norway House North Stars
2
Gold Metal Game
Team
Goals
Selkirk Fishermen
6
NCN Flames
5
---
Selkirk Fishermen win the Baldy Northcott Trophy and advanced to the 2003 Keystone Cup
---
Ad blocker interference detected!
Wikia is a free-to-use site that makes money from advertising. We have a modified experience for viewers using ad blockers

Wikia is not accessible if you've made further modifications. Remove the custom ad blocker rule(s) and the page will load as expected.