Ad blocker interference detected!
Wikia is a free-to-use site that makes money from advertising. We have a modified experience for viewers using ad blockers

Wikia is not accessible if you've made further modifications. Remove the custom ad blocker rule(s) and the page will load as expected.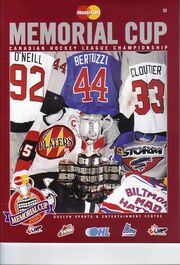 The 2002 Memorial Cup occurred May 18-26 at the Guelph Sports and Entertainment Centre in Guelph, Ontario. It featured the host team, the Guelph Storm as well as the winners of the Ontario Hockey League, Quebec Major Junior Hockey League and the Western Hockey League which were the Erie Otters, Victoriaville Tigres and the Kootenay Ice respectively. The Kootenay Ice won their first Memorial Cup, beating the Victoriaville Tigres in the final.
Round-robin standings
Edit
May 18: Guelph 5-1 Victoriaville
May 19: Kootenay 3-0 Erie
May 20: Kootenay 4-3 Guelph
May 21: Erie 5-1 Victoriaville
May 22: Victoriaville 3-2 Kootenay
May 23: Erie 4-0 Guelph
Tie-breaker
May 24: Victoriaville 4-3 Guelph
Semi-final
May 25: Victoriaville 5-4 Erie (OT)
Final
May 26: Kootenay 6-3 Victoriaville
Winning team
Edit
Igor Agarunov, Bryan Bridges, B.J. Boxma, Nigel Dawes, Gerard Dicaire, Brennan Evans, Cole Fischer, Curtis Fransoo, Travis Featherstone, Richard Hamula, Chris LaValley, Dale Mahovsky, Steve Makway, Duncan Milroy, Shaun Norrie, Tomas Plihal, Kyle Sheen, Colin Sinclair, Jarret Stoll, Marek Svatos, Adam Taylor, Andy Thompson, Craig Weller. Coach: Ryan McGill
Scoring leaders
Edit
Goaltending leaders
Edit
Award winners
Edit
All-star team
Goal: T.J. Aceti (Erie)
Defence: Danny Groulx (Victoriaville), Kevin Dallman (Guelph)
Forwards: Matthew Lombardi (Victoriaville), Colin Sinclair (Kootenay), Cory Pecker (Erie)