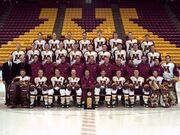 The 2002 Frozen Four was held April 4-6, 2002, in St. Paul, Minnesota at the Xcel Energy Center.
The participants were:
The Minnesota Golden Gophers, playing in front of a friendly hometown crowd, defeated Maine 4-3 in sudden death overtime to win their first national championship since 1979, their fourth overall. Grant Potulny scored the game winning goal in the overtime period.
This was the first Frozen Four in a decade that did not include either Boston College or Boston University.
All-Tournament Team
Edit
G Adam Hauser, Minnesota
D Michael Schutte, Maine
D Peter Metcalf, Maine
F John Pohl, Minnesota
F Grant Potulny, Minnesota
F Robert Liscak, Maine
Most Outstanding Player: F Grant Potulny, Minnesota

This entry is a stub. You can help the Ice Hockey Wiki by expanding it. Click the "edit" button to add information.
Ad blocker interference detected!
Wikia is a free-to-use site that makes money from advertising. We have a modified experience for viewers using ad blockers

Wikia is not accessible if you've made further modifications. Remove the custom ad blocker rule(s) and the page will load as expected.