2001 Men's World Ice Hockey Championships
Talk

0
Share
Ad blocker interference detected!
Wikia is a free-to-use site that makes money from advertising. We have a modified experience for viewers using ad blockers

Wikia is not accessible if you've made further modifications. Remove the custom ad blocker rule(s) and the page will load as expected.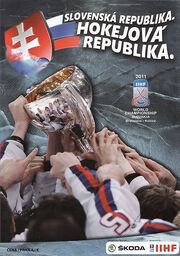 Championship
Edit
Main article 2001 World Championship
Final standings
Division I
Edit
Group A was played in Grenoble, France between April 16 and April 22, 2001
Group B was played in Ljubljana, Slovenia between April 15 and April 21, 2001

 Poland and
 Slovenia are promoted to the 2002 Men's World Ice Hockey Championships, while

 Estonia and
 Lithuania are relegated to Division II.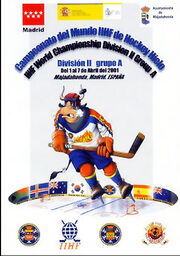 Division II
Edit
Group A was played in Majadahonda, Spain between April 1 and April 7, 2001
Group A was played in Bucharest, Romania between March 26 and April 1, 2001
 South Korea and

 Romania are promoted to Division I and

 Mexico and
 New Zealand are relegated to Division II Qualification.
External links
Edit