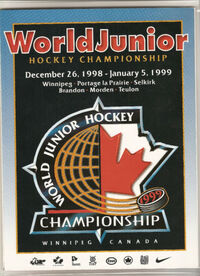 The 1999 World Junior Ice Hockey Championships (1999 WJHC) were held in Brandon and Winnipeg, Manitoba, Canada, December 26, 1998 — January 5, 1999. In the gold medal match, Russia defeated Canada 3-2 on Artem Chubarov's overtime goal. The bronze medal was claimed by Slovakia, giving the six-year-old country its first medal at an IIHF event.
Final round
Edit
Relegation round
Edit
Belarus relegated to Pool B for 2000.
Scoring leaders
Edit
Scoring leaders
Edit
Played at Szekesfehervar and Dunaujvaros, Hungary
Medal round
Edit
Relegation round
Edit
Ukraine is promoted to Pool A, Hungary is demoted to Pool C.
Played at Kaunas and Elektrenai, Lithuania
Italy is promoted to Pool B, Croatia is demoted to Pool D.
Played at Novi Sad, Yugoslavia
Yugoslavia is promoted to Pool C
Ad blocker interference detected!
Wikia is a free-to-use site that makes money from advertising. We have a modified experience for viewers using ad blockers

Wikia is not accessible if you've made further modifications. Remove the custom ad blocker rule(s) and the page will load as expected.