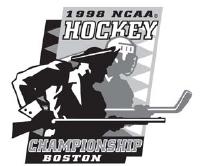 The 1998 Frozen Four was held April 2 and 4, 1998 in Boston, Massachusetts at the FleetCenter.
The participants were:
Michigan, playing in front of a hostile Boston crowd, won their record ninth National Championship, their second in three years, defeating Boston College 3-2 in overtime.
This was the first appearance by Ohio State in the Frozen Four.
Semifinals

April 2

National Championship

April 4

New Hampshire
0
Michigan
4
Michigan
3
Boston College
2
Boston College
5
Ohio State
2
All-Tournament Team
Edit
G Marty Turco, Michigan
D Bubba Berenzweig, Michigan
D Mike Mottau, Boston College
F Mark Kosick, Michigan
F Josh Langfeld, Michigan
F Marty Reasoner, Boston College
Most Outstanding Player: G Marty Turco, Michigan
Team Photos
Edit
Ad blocker interference detected!
Wikia is a free-to-use site that makes money from advertising. We have a modified experience for viewers using ad blockers

Wikia is not accessible if you've made further modifications. Remove the custom ad blocker rule(s) and the page will load as expected.