Ad blocker interference detected!
Wikia is a free-to-use site that makes money from advertising. We have a modified experience for viewers using ad blockers

Wikia is not accessible if you've made further modifications. Remove the custom ad blocker rule(s) and the page will load as expected.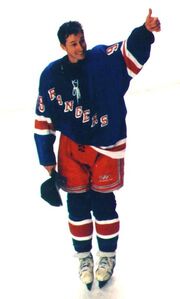 The 1998–99 New York Rangers season was the 73rd season for the franchise. The aspect of the season was that it was Wayne Gretzky's final season.
Offseason
Edit
NHL Draft
Edit
Regular season
Edit
Final standings
Edit
The Great One Retires
Edit
Wayne Gretzky's last NHL game in Canada was on April 16, 1999, in a 2–2 tie with the Ottawa Senators, and his final game was a 2–1 overtime loss to the Pittsburgh Penguins which had Jaromir Jagr, the future Ranger captain, scoring the game winning goal on April 18, 1999 in the Madison Square Garden. The national anthems in that game were adjusted to accommodate Gretzky's departure. In place of "O Canada, we stand on guard for thee", Bryan Adams sang "We're going to miss you Wayne Gretzky".[1] The Star-Spangled Banner, sung by John Amirante, was changed from "the land of the free" to "the land of Wayne Gretzky". He scored his final point in this game, assisting on the lone New York goal scored by Brian Leetch. Gretzky was named as the first, second, and third star of both games. Only Maurice Richard has had such an honour, when during the Stanley Cup Playoffs on March 23, 1944, he scored five dominating goals against the Toronto Maple Leafs. His Montreal Canadiens won 5–1.
At the time of his retirement, Gretzky was the second-to-last WHA player still active in professional hockey, Mark Messier being the last. Messier, himself a former Ranger, along with other representatives of the great Edmonton dynasty of the 1980s, attended the game[2]. Gretzky's final game was considered a "national retirement party" in Canada[2], and Bryan Adams's rendition of "O Canada" was like a "lullaby."[2] As the final seconds ticked away, the crowd at Madison Square Garden gave him a standing ovation, capping off "an entirely satisfying, weekend-long going-away party" in Canada[2], as there would be "No Regretzkys."[2]
Gretzky told Scott Morrison that the final game of his career was his greatest day[3]. He recounted:
| | | |
| --- | --- | --- |
| " | My last game in New York was my greatest day in hockey...Everything you enjoy about the sport of hockey as a kid, driving to practice with mom [Phyllis] and dad [Walter], driving to the game with mom and dad, looking in the stands and seeing your mom and dad and your friends, that all came together in that last game in New York.[3] | " |
| # | R | Date | Score | Opponent | Record |
| --- | --- | --- | --- | --- | --- |
| 1 | L | Oct 9, 1998 | 0–1 | Philadelphia Flyers | 0–1–0 |
| 2 | L | Oct 10, 1998 | 1–7 | @ Montreal Canadiens | 0–2–0 |
| 3 | L | Oct 12, 1998 | 2–4 | St. Louis Blues | 0–3–0 |
| 4 | L | Oct 16, 1998 | 1–2 | New Jersey Devils | 0–4–0 |
| 5 | T | Oct 17, 1998 | 3–3 OT | @ Pittsburgh Penguins | 0–4–1 |
| 6 | W | Oct 20, 1998 | 3–2 | Edmonton Oilers | 1–4–1 |
| 7 | W | Oct 22, 1998 | 3–2 | New York Islanders | 2–4–1 |
| 8 | T | Oct 24, 1998 | 2–2 OT | @ Philadelphia Flyers | 2–4–2 |
| 9 | T | Oct 27, 1998 | 0–0 OT | Buffalo Sabres | 2–4–3 |
| 10 | W | Oct 30, 1998 | 1–0 | Carolina Hurricanes | 3–4–3 |
| 11 | L | Nov 3, 1998 | 1–3 | @ New Jersey Devils | 3–5–3 |
| 12 | L | Nov 4, 1998 | 1–4 | Montreal Canadiens | 3–6–3 |
| 13 | T | Nov 7, 1998 | 6–6 OT | @ Toronto Maple Leafs | 3–6–4 |
| 14 | W | Nov 10, 1998 | 10–2 | @ Tampa Bay Lightning | 4–6–4 |
| 15 | L | Nov 11, 1998 | 1–4 | @ Florida Panthers | 4–7–4 |
| 16 | T | Nov 13, 1998 | 3–3 OT | Boston Bruins | 4–7–5 |
| 17 | L | Nov 18, 1998 | 1–3 | @ Mighty Ducks of Anaheim | 4–8–5 |
| 18 | W | Nov 19, 1998 | 5–1 | @ Los Angeles Kings | 5–8–5 |
| 19 | T | Nov 21, 1998 | 2–2 OT | @ San Jose Sharks | 5–8–6 |
| 20 | L | Nov 25, 1998 | 2–4 | @ Buffalo Sabres | 5–9–6 |
| 21 | T | Nov 27, 1998 | 2–2 OT | @ Pittsburgh Penguins | 5–9–7 |
| 22 | W | Nov 29, 1998 | 5–1 | Nashville Predators | 6–9–7 |
| 23 | W | Dec 1, 1998 | 5–4 OT | Florida Panthers | 7–9–7 |
| 24 | W | Dec 2, 1998 | 3–2 | @ New York Islanders | 8–9–7 |
| 25 | W | Dec 5, 1998 | 2–1 | @ Ottawa Senators | 9–9–7 |
| 26 | W | Dec 7, 1998 | 6–2 | Toronto Maple Leafs | 10–9–7 |
| 27 | L | Dec 9, 1998 | 1–2 | Colorado Avalanche | 10–10–7 |
| 28 | L | Dec 11, 1998 | 0–2 | @ Buffalo Sabres | 10–11–7 |
| 29 | W | Dec 14, 1998 | 5–2 | Calgary Flames | 11–11–7 |
| 30 | L | Dec 16, 1998 | 3–6 | @ New Jersey Devils | 11–12–7 |
| 31 | L | Dec 19, 1998 | 4–7 | @ Toronto Maple Leafs | 11–13–7 |
| 32 | L | Dec 23, 1998 | 0–1 | Carolina Hurricanes | 11–14–7 |
| 33 | W | Dec 26, 1998 | 6–3 | @ Carolina Hurricanes | 12–14–7 |
| 34 | L | Dec 30, 1998 | 1–3 | @ Phoenix Coyotes | 12–15–7 |
| 35 | W | Dec 31, 1998 | 6–3 | @ Colorado Avalanche | 13–15–7 |
| 36 | W | Jan 2, 1999 | 1–0 | @ St. Louis Blues | 14–15–7 |
| 37 | W | Jan 4, 1999 | 4–3 | San Jose Sharks | 15–15–7 |
| 38 | L | Jan 6, 1999 | 2–5 | New Jersey Devils | 15–16–7 |
| 39 | L | Jan 7, 1999 | 1–5 | @ Washington Capitals | 15–17–7 |
| 40 | W | Jan 10, 1999 | 5–2 | Tampa Bay Lightning | 16–17–7 |
| 41 | W | Jan 13, 1999 | 4–3 OT | New York Islanders | 17–17–7 |
| 42 | L | Jan 15, 1999 | 1–3 | Chicago Blackhawks | 17–18–7 |
| 43 | L | Jan 16, 1999 | 0–3 | @ Montreal Canadiens | 17–19–7 |
| 44 | L | Jan 19, 1999 | 1–2 | Ottawa Senators | 17–20–7 |
| 45 | L | Jan 21, 1999 | 1–2 | Florida Panthers | 17–21–7 |
| 46 | W | Jan 26, 1999 | 4–1 | @ Washington Capitals | 18–21–7 |
| 47 | L | Jan 28, 1999 | 2–3 OT | @ Carolina Hurricanes | 18–22–7 |
| 48 | W | Jan 30, 1999 | 3–2 | @ Detroit Red Wings | 19–22–7 |
| 49 | L | Feb 1, 1999 | 1–3 | Washington Capitals | 19–23–7 |
| 50 | W | Feb 4, 1999 | 8–4 | Vancouver Canucks | 20–23–7 |
| 51 | L | Feb 7, 1999 | 2–3 | @ Boston Bruins | 20–24–7 |
| 52 | L | Feb 12, 1999 | 1–3 | Carolina Hurricanes | 20–25–7 |
| 53 | L | Feb 14, 1999 | 2–4 | Detroit Red Wings | 20–26–7 |
| 54 | W | Feb 15, 1999 | 7–4 | @ Nashville Predators | 21–26–7 |
| 55 | L | Feb 17, 1999 | 3–6 | Montreal Canadiens | 21–27–7 |
| 56 | W | Feb 19, 1999 | 6–1 | Pittsburgh Penguins | 22–27–7 |
| 57 | W | Feb 21, 1999 | 2–1 OT | @ Edmonton Oilers | 23–27–7 |
| 58 | L | Feb 22, 1999 | 2–6 | @ Calgary Flames | 23–28–7 |
| 59 | W | Feb 26, 1999 | 3–0 | Phoenix Coyotes | 24–28–7 |
| 60 | W | Feb 28, 1999 | 6–5 | Philadelphia Flyers | 25–28–7 |
| 61 | T | Mar 2, 1999 | 2–2 OT | Dallas Stars | 25–28–8 |
| 62 | W | Mar 4, 1999 | 4–2 | @ Washington Capitals | 26–28–8 |
| 63 | W | Mar 7, 1999 | 3–1 | @ Boston Bruins | 27–28–8 |
| 64 | W | Mar 8, 1999 | 3–2 OT | Toronto Maple Leafs | 28–28–8 |
| 65 | L | Mar 10, 1999 | 0–3 | Ottawa Senators | 28–29–8 |
| 66 | L | Mar 12, 1999 | 4–5 | Boston Bruins | 28–30–8 |
| 67 | W | Mar 14, 1999 | 3–2 OT | @ New York Islanders | 29–30–8 |
| 68 | T | Mar 15, 1999 | 1–1 OT | Washington Capitals | 29–30–9 |
| 69 | L | Mar 19, 1999 | 2–3 OT | Buffalo Sabres | 29–31–9 |
| 70 | T | Mar 21, 1999 | 2–2 OT | Pittsburgh Penguins | 29–31–10 |
| 71 | L | Mar 22, 1999 | 3–6 | @ Tampa Bay Lightning | 29–32–10 |
| 72 | W | Mar 24, 1999 | 2–1 | @ Florida Panthers | 30–32–10 |
| 73 | L | Mar 27, 1999 | 1–3 | @ Philadelphia Flyers | 30–33–10 |
| 74 | W | Mar 29, 1999 | 3–1 | New York Islanders | 31–33–10 |
| 75 | L | Apr 2, 1999 | 1–4 | Mighty Ducks of Anaheim | 31–34–10 |
| 76 | L | Apr 4, 1999 | 1–4 | @ New Jersey Devils | 31–35–10 |
| 77 | W | Apr 5, 1999 | 5–1 | @ Philadelphia Flyers | 32–35–10 |
| 78 | L | Apr 8, 1999 | 2–6 | @ Chicago Blackhawks | 32–36–10 |
| 79 | L | Apr 9, 1999 | 1–3 | @ Dallas Stars | 32–37–10 |
| 80 | W | Apr 12, 1999 | 2–1 | Tampa Bay Lightning | 33–37–10 |
| 81 | T | Apr 15, 1999 | 2–2 OT | @ Ottawa Senators | 33–37–11 |
| 82 | L | Apr 18, 1999 | 1–2 OT | Pittsburgh Penguins | 33–38–11 |
Player stats
Edit
Regular season
Scoring
Goaltending
| Player | MIN | GP | W | L | T | GA | GAA | SO | SA | SV | SV% |
| --- | --- | --- | --- | --- | --- | --- | --- | --- | --- | --- | --- |
| Mike Richter | 3878 | 68 | 27 | 30 | 8 | 170 | 2.63 | 4 | 1898 | 1728 | .910 |
| Dan Cloutier | 1097 | 22 | 6 | 8 | 3 | 49 | 2.68 | 0 | 570 | 521 | .914 |
| Team: | 4975 | 82 | 33 | 38 | 11 | 219 | 2.64 | 4 | 2468 | 2249 | .911 |
Note: Pos = Position; GP = Games played; G = Goals; A = Assists; Pts = Points; +/- = plus/minus; PIM = Penalty minutes; PPG = Power-play goals; SHG = Short-handed goals; GWG = Game-winning goals
      MIN = Minutes played; W = Wins; L = Losses; T = Ties; GA = Goals-against; GAA = Goals-against average; SO = Shutouts; SA = Shots against; SV = Shots saved; SV% = Save percentage;
Awards and honors
Edit
References
Edit