1993–94 Mighty Ducks of Anaheim season
Talk

0
Share
Ad blocker interference detected!
Wikia is a free-to-use site that makes money from advertising. We have a modified experience for viewers using ad blockers

Wikia is not accessible if you've made further modifications. Remove the custom ad blocker rule(s) and the page will load as expected.
The Mighty Ducks of Anaheim were founded in 1993 by The Walt Disney Company. The team's original name was chosen from the Disney movie The Mighty Ducks, based on a group of misfit kids who turn their losing youth hockey team into a winning team. Disney subsequently made an animated series called [Mighty Ducks, featuring a fictional Mighty Ducks of Anaheim team that consisted of anthropomorphized ducks led by the Mighty Duck Wildwing Flashblade. The team was the first tenant of Arrowhead Pond (now Honda Center), a brand-new arena in Anaheim located a short distance east of Disneyland and across the Orange Freeway from Angel Stadium. The arena was completed the same year the team was founded.
The Mighty Ducks hired Jack Ferreira as their first General Manager. Pierre Gauthier became his assistant. Gauthier had been a former goalie for Boston University and had considerable scouting experience with the New England Whalers, Calgary Flames and New York Rangers.[1]
Offseason
Edit
Expansion draft
Edit
NHL draft
Edit
Regular season
Edit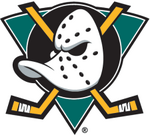 On September 18, 1993, the Mighty Ducks took to the ice against the Pittsburgh Penguins to a crowd of 16,673 fans. The Ducks finished their inaugural season with 71 points (33-46-5), and set a record, along with the Florida Panthers for the most wins for an expansion team.[1]
Season standings
Edit
Green background indicates win (2 points).
Red background indicates regulation loss (0 points).
White background indicates overtime/shootout loss (1 point).
1993-94 game log
1993–94 Schedule
Player stats
Edit
Regular season
Edit
Scoring
Goaltending
| Player | MIN | GP | W | L | T | GA | GAA | SA | SV | SV% | SO |
| --- | --- | --- | --- | --- | --- | --- | --- | --- | --- | --- | --- |
| Guy Hebert | 2991 | 52 | 20 | 27 | 3 | 141 | 2.83 | 1513 | 1372 | .907 | 2 |
| Ron Tugnutt | 1520 | 28 | 10 | 15 | 1 | 76 | 3.00 | 828 | 752 | .908 | 1 |
| Mikhail Shtalenkov | 543 | 10 | 3 | 4 | 1 | 24 | 2.65 | 265 | 241 | .909 | 0 |
| Team: | 5054 | 84 | 33 | 46 | 5 | 241 | 2.86 | 2606 | 2365 | .908 | 3 |
Mighty Ducks of Anaheim

Goaltenders

Defensemen

Wingers

Centers



Transactions
Edit
Farm teams
Edit
References
Edit
↑ 1993-94 Mighty Ducks of Anaheim Statistics - Hockey-Reference.com. hockey-reference.com. Retrieved on 2009-05-27.
↑ Patrick Roy, winning, nothing else, p.320, by Michel Roy, translated by Charles Phillips, 2008, John Wiley & Sons, Mississauga, ON, ISBN 978-0-470-15616-2