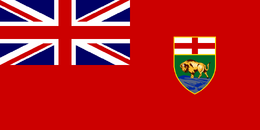 With the Central Amateur Senior Hockey League suspending operations for a year, the Manitoba Amateur Hockey Association scrambled to insure the two remaining teams, the Warroad Lakers
& the St. Boniface Mohawks would remain eligible for Allan Cup play. CASHL commissioner Lou Joyal flew to Ottawa to make the special arrangements. The Canadian Amateur Hockey Association approved both teams schedules, citing the rule a team must play a minimum of 24 games against quality opponents. Both the Lakers and the Mohawks played around 40 games, including 10 against each other with home ice in the provincial final on the line. The Lakers & Mohawks faced off in the best of seven game series for the Manitoba Senior AAA Championship, the Pattison Cup.


Game
Visitors
Goals
Home
Goals
Date
Venue
1
St. Boniface
3
Warroad
1
Thursday, March 5
Warroad Memorial Arena
2
Warroad
8
St. Boniface
7
Tuesday, March 10
Bertrand Arena
3
St. Boniface
Warroad
Tuesday, March 17
Warroad Memorial Arena
4
Warroad
5
St. Boniface
3
Thursday, March 19
Bertrand Arena
5
St. Boniface
Warroad
Tuesday, March 24
Warroad Memorial Arena
6
Warroad
6
St. Boniface
7
Thursday, March 26
Bertrand Arena
7
St. Boniface
4
Warroad
6
Saturday, March 28
Warroad Memorial Arena
Warroad Lakers defeated St. Boniface Mohawks 4-games-to-3
Warroad Lakers won the Pattison Cup and advanced to the 1992 Manitoba Saskatchewan Senior Playoff
Manitoba Senior AAA Hockey History
Ad blocker interference detected!
Wikia is a free-to-use site that makes money from advertising. We have a modified experience for viewers using ad blockers

Wikia is not accessible if you've made further modifications. Remove the custom ad blocker rule(s) and the page will load as expected.