The 1992 Centennial Cup was the Canadian Junior "A" National Championship.
The 1992 Centennial Cup Tournament was hosted by the Manitoba Junior Hockey League, and held at the Winnipg Arena in Winnipeg, Manitoba.
Round-Robin Final Standings
Edit
Round-Robin Scores
Edit
Thunder Bay Flyers defeat St.James Canadians 7-4
Winkler Flyers defeat Halifax Mooseheads 5-3
Vernon Lakers defeat Thunder Bay Flyers 5-4 (2OT)
Halifax Mooseheads defeat Vernon Lakers 6-4
Winkler Flyers defeat St.James Canadians 8-4
Vernon Lakers defeat St.James Canadians 9-3
Thunder Bay Flyers defeat Winkler Flyers 9-2
St.James Canadians defeat Halifax Mooseheads 10-4
Halifax Mooseheads defeat Thunder Bay Flyers 9-3
Vernon Lakers defeat Winkler Flyers 5-3 (Abbott Cup Game)
All-Star Team
Edit
National Playdowns Flowchart
Edit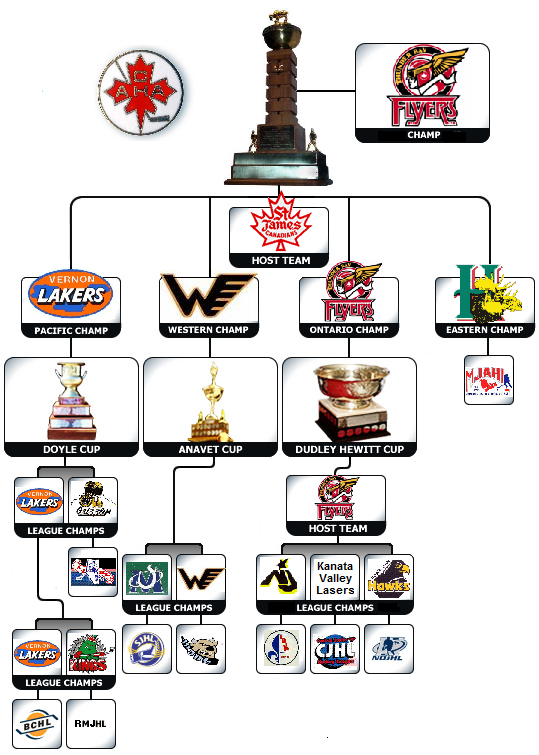 Ad blocker interference detected!
Wikia is a free-to-use site that makes money from advertising. We have a modified experience for viewers using ad blockers

Wikia is not accessible if you've made further modifications. Remove the custom ad blocker rule(s) and the page will load as expected.