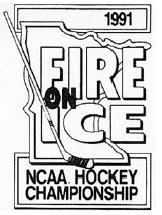 The 1991 Frozen Four was held March 28 and 30, 1991 in St. Paul, Minnesota at the St. Paul Civic Center.
The participants were:
Northern Michigan won its first national championship, defeating Boston University 8-7 in overtime.
Semifinals

March 30–31

National Championship

April 1

Maine
3
Northern Michigan
5
Northern Michigan
8 (3OT)
Boston Univ.
7
Boston Univ.
7
Clarkson
3
All-Tournament Team
Edit
G Bill Pye, Northern Michigan
D Lou Melone, Northern Michigan
D Brad Werenka, Northern Michigan
F Tony Amonte, Boston University
F Scott Beattie, Northern Michigan
F Jean-Yves Roy, Maine
Most Outstanding Player: F Scott Beattie, Northern Michigan
Team Photos
Edit

This entry is a stub. You can help the Ice Hockey Wiki by expanding it. Click the "edit" button to add information.
Ad blocker interference detected!
Wikia is a free-to-use site that makes money from advertising. We have a modified experience for viewers using ad blockers

Wikia is not accessible if you've made further modifications. Remove the custom ad blocker rule(s) and the page will load as expected.