Ad blocker interference detected!
Wikia is a free-to-use site that makes money from advertising. We have a modified experience for viewers using ad blockers

Wikia is not accessible if you've made further modifications. Remove the custom ad blocker rule(s) and the page will load as expected.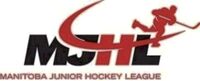 This is the 1991-92 Manitoba Junior Hockey League Season.
League Notes
Edit
Southeast Thunderbirds changed name to Southeast T-Birds.
Winnipeg to host Centennial Cup. MJHL Champions will either be host team or West Region representative.
If it's the latter, then the MJHL runner-up will be host.
Players of the Month introduced.

Regular Season
Edit
 
Division Semi-Finals
Division Finals
Turnbull Cup Championship
 
 
 
 
 
 
 
 
 
 
 
 
 
 
 
1
 Winkler Flyers
4
 
4
 Selkirk Steelers
0
 
 
1
 Winkler Flyers
4
 
North Division
 
3
 Portage Terriers
1
 
2
 Dauphin Kings
1
 
3
 Portage Terriers
4
 
 
 
1
 Winkler Flyers
4
 
1
 St. James Canadians
1
 
1
 St. James Canadians
4
 
N5
 Neepawa Natives
1
 
1
 St. James Canadians
4
South Division
 
3
 Winnipeg South Blues
0
 
2
 St. Boniface Saints
2
 
3
 Winnipeg South Blues
4
 
Manitoba / Saskatchewan Playoff
Edit
Anavet Cup Championship
Winkler defeated Melfort Mustangs (SJHL) 4-games-to-1
see 1992 Anavet Cup
Canada Championship Tournament
Edit
Centennial Cup Championship
Winkler lost to Vernon Lakers (BCHL) 5-3 in Abbott Cup Game
Host St. James failed to qualify for playoffs
Winkler lost to Thunder Bay Flyers (USHL) in Championship Game
see 1992 Centennial Cup @ Winnipeg, Manitoba
Dane Litke and Chris Yaschyshyn from Winkler selected All-Stars
All-Star Game
Edit
The North Division defeated the South 6-2 at the annual All-Star Game held Saturday, January 25 in Winkler. Goalie Jamie Morris was named the North's MVP and for the South division it was Carl Standing Ready.
see 1992 MJHL All-Star Game
Players of the Month
Edit
League Leaders
Edit
Scoring Leaders
Edit
CAHA Award
Edit
All-Star Team
Edit
Jamie Penner • Derek Picklyk • David Stetch
Winkler Flyers • St. James Canadians • St. James Canadians
Dane Litke • Pat Mullin
Winkler Flyers • Dauphin Kings
Robin Cook
Winkler Flyers
Coach (tie)
Don Hutchinson • Marshall Kennedy
St. James Canadians • Portage Terriers