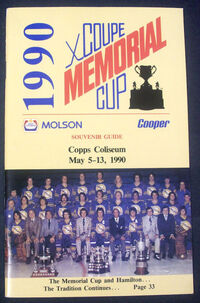 The 1990 Memorial Cup occurred May 5-May 13 at the Copps Coliseum in Hamilton, Ontario. Participating teams were the Ontario Hockey League champion Oshawa Generals and runner-up Kitchener Rangers, as well as the winners of the Quebec Major Junior Hockey League and Western Hockey League which were the Laval Titan and Kamloops Blazers. The original host team, the short-lived Dukes of Hamilton, were forced to drop out after only winning eleven games in the 1989–90 OHL season. Oshawa won their 4th Memorial Cup, defeating Kitchener in the final game.
Round-robin standings
Edit
Round-robin
May 5 Kitchener 8-7 Kamloops (OT)
May 5 Oshawa 6-2 Laval
May 6 Oshawa 7-6 Kamloops (OT)
May 8 Kitchener 5-3 Laval
May 9 Laval 4-2 Kamloops
May 10 Oshawa 5-Kitchener 4 (2OT)
Semi-final
May 12 Kitchener 5-4 Laval
Final
May 13 Oshawa 4-3 Kitchener (2OT)
Winning roster
Edit
Bill Armstrong, Cory Banika, Fred Brathwaite, Joe Busillo, Kevin Butt, Clair Cornish, David Craievich, Mike Craig, Dale Craigwell, Jean-Paul Davis, Mark Deazeley, Craig Donaldson, Iain Fraser, Brent Grieve, Brian Grieve, Matt Hoffman, Scott Hollis, Eric Lindros, Scott Luik, Trevor McIvor, Paul O'Hagan, Wade Simpson, Jarrod Skalde Coach: Rick Cornacchia
Award winners
Edit
All-star team
Ad blocker interference detected!
Wikia is a free-to-use site that makes money from advertising. We have a modified experience for viewers using ad blockers

Wikia is not accessible if you've made further modifications. Remove the custom ad blocker rule(s) and the page will load as expected.