Ad blocker interference detected!
Wikia is a free-to-use site that makes money from advertising. We have a modified experience for viewers using ad blockers

Wikia is not accessible if you've made further modifications. Remove the custom ad blocker rule(s) and the page will load as expected.
The 1990–91 WHL season was the 25th season for the Western Hockey League. Fourteen teams completed a 72 game season. The Spokane Chiefs won the President's Cup before going on to win the Memorial Cup.
Regular season
Edit
Final standings
Edit
Scoring leaders
Edit
Note: GP = Games played; G = Goals; A = Assists; Pts = Points; PIM = Penalties in minutes
WHL Playoffs
Edit
First round
Edit
Lethbridge earned a bye
Medicine Hat earned a bye
Regina defeated Prince Albert 3 games to 0
Moose Jaw defeated Swift Current 3 games to 0
Division semi-finals
Edit
Lethbridge defeated Moose Jaw 4 games to 1
Medicine Hat defeated Regina 4 games to 1
Kamloops defeated Tri-City 5 games to 2
Spokane defeated Seattle 5 games to 1
Division finals
Edit
Lethbridge defeated Medicine Hat 4 games to 3
Spokane defeated Kamloops 5 games to 0
WHL Championship
Edit
Spokane defeated Lethbridge 4 games to 0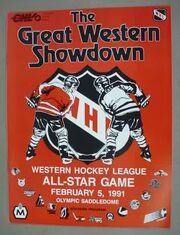 All-Star Game
Edit
On February 5, the East division defeated the West division 8–2 at Calgary, Alberta before a crowd of 7,473.
WHL awards
Edit
Most Valuable Player - Four Broncos Memorial Trophy: Ray Whitney, Spokane Chiefs
Scholastic Player of the Year - Daryl K. (Doc) Seaman Trophy: Scott Niedermayer, Kamloops Blazers
Top Scorer - Bob Clarke Trophy: Ray Whitney, Spokane Chiefs
Most Sportsmanlike Player - Brad Hornung Trophy: Pat Falloon, Spokane Chiefs
Top Defenseman - Bill Hunter Trophy: Darryl Sydor, Kamloops Blazers
Rookie of the Year - Jim Piggott Memorial Trophy: Donevan Hextall, Prince Albert Raiders
Top Goaltender - Del Wilson Trophy: Jamie McLennan, Lethbridge Hurricanes
Coach of the Year - Dunc McCallum Memorial Trophy: Tom Renney, Kamloops Blazers
Executive of the Year - Lloyd Saunders Memorial Trophy: Bob Brown, Kamloops Blazers
Regular season Champions - Scotty Munro Memorial Trophy: Kamloops Blazers
Marketing/Public Relations Award - St. Clair Group Trophy: Bill Lee, Seattle Thunderbirds
WHL Plus-Minus Award: Frank Evans, Spokane Chiefs
References
Edit