Ad blocker interference detected!
Wikia is a free-to-use site that makes money from advertising. We have a modified experience for viewers using ad blockers

Wikia is not accessible if you've made further modifications. Remove the custom ad blocker rule(s) and the page will load as expected.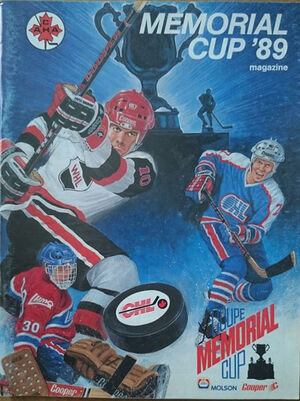 The 1989 Memorial Cup occurred May 6-13 at the brand new Saskatchewan Place in Saskatoon, Saskatchewan. Participating teams were the Western Hockey League champion Swift Current Broncos, the WHL hosts, the Saskatoon Blades, as well as the winners of the Quebec Major Junior Hockey League and Ontario Hockey League which were the Laval Titan and Peterborough Petes. In the first ever all-WHL final (in fact, an all-Saskatchewan final), an overflow, bi-partisan crowd of more than 11,000 saw Swift Current beat Saskatoon in overtime to win their first Memorial Cup.
Round-robin standings
Edit
Round-robin
May 6 Swift Current 6-4 Peterborough
May 6 Saskatoon 5-3 Laval
May 7 Peterborough 3-2 Saskatoon
May 7 Swift Current 6-5 Laval
May 9 Laval 3-1 Peterborough
May 10 Saskatoon 5-4 Swift Current
Tie-breaker
May 11 Peterborough 5-4 Laval
Semi-final
May 12 Swift Current 6-2 Peterborough
Final
May 13 Swift Current 4-3 Saskatoon (OT)
Winning roster
Edit
Scott Albert, Kevin Barrett, Kimbi Daniels, Don Blishen, Peter Kasowski, Sheldon Kennedy, Jeff Knight, Kevin Knopp, Blake Knox, Darren Kruger, Trevor Kruger, Chris Larkin, Dan Lambert, Evan Marble, Trent McCleary, Mark McFarlane, Kyle Reeves, Matt Ripley, Brian Sakic, Geoff Sanderson, Trevor Sim, Wade Smith, Peter Soberlak, Tim Tisdale, Bob Wilkie. Coach: Graham James
Award winners
Edit
All-star team
Team Photos
Edit