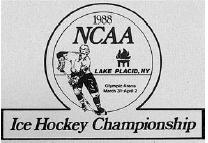 The 1988 Frozen Four was held March 31 to April 2, 1988 in Lake Placid, New York at 1980 Olympic Arena. It was the first time that the Frozen Four reached into the month of April.
The participants were:
Lake Superior, playing in its first Frozen Four, defeated St. Lawrence, playing in its first Frozen Four since 1962, by a score of 4-3 in overtime.
Semifinals

March 31–April 1

National Championship

April 2

Maine
3
Lake Superior State
6
Lake Superior State
4 (OT)
St. Lawrence
3
St. Lawrence
3
Minnesota
2
All-Tournament Team
Edit
G Bruce Hoffort, Lake Superior
D Kord Cernich, Lake Superior
D Brian McColgan, St. Lawrence
F David Capuano, Maine
F Mike de Carle, Lake Superior
F Pete Lappin, St. Lawrence
Most Outstanding Player: G Bruce Hoffort, Lake Superior
Team Photos
Edit

This entry is a stub. You can help the Ice Hockey Wiki by expanding it. Click the "edit" button to add information.
Ad blocker interference detected!
Wikia is a free-to-use site that makes money from advertising. We have a modified experience for viewers using ad blockers

Wikia is not accessible if you've made further modifications. Remove the custom ad blocker rule(s) and the page will load as expected.