Ad blocker interference detected!
Wikia is a free-to-use site that makes money from advertising. We have a modified experience for viewers using ad blockers

Wikia is not accessible if you've made further modifications. Remove the custom ad blocker rule(s) and the page will load as expected.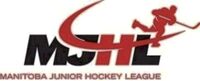 This is the 1988-89 Manitoba Junior Hockey League Season.
League Notes
Edit
MJHL grants franchise to Southeast Tribal Council, as Southeast Thunderbirds join South Division.
Steinbach Hawks granted a one year leave of absence.
Regular Season
Edit
 
Division Semi-Finals
Division Finals
Turnbull Cup Championship
 
 
 
 
 
 
 
 
 
 
 
 
 
 
 
1
 Winkler Flyers
2
 
4
 Dauphin Kings
4
 
 
4
 Dauphin Kings
1
 
North Division
 
3
 Selkirk Steelers
4
 
2
 Portage Terriers
3
 
3
 Selkirk Steelers
4
 
 
 
3
 Selkirk Steelers
0
 
1
 Winnipeg South Blues
4
 
1
 Winnipeg South Blues
4
 
4
 St. James Canadians
1
 
1
 Winnipeg South Blues
4
South Division
 
3
 Kildonan North Stars
0
 
2
 St. Boniface Saints
0
 
3
 Kildonan North Stars
4
 
Manitoba / Saskatchewan Playoff
Edit
Anavet Cup Championship
Winnipeg lost to Humboldt Broncos (SJHL) 4-games-to-1
see 1989 Anavet Cup
All-Star Game
Edit
see 1989 MJHL All-Star Game
League Leaders
Edit
Scoring Leaders
Edit
All-Star Team
Edit
Kevin Green • Blair Lee • Pat Penner
Dauphin Kings • Dauphin Kings • Selkirk Steelers
David Bessason • Paul Thompson
Winkler Flyers • Winnipeg South Blues
Jamie Bound
Winnipeg South Blues
Coach
Carey Chartier
Kildonan North Stars