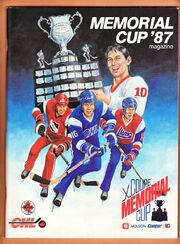 The 1987 Memorial Cup occurred May 9-May 15 at the Oshawa Civic Auditorium in Oshawa, Ontario. Oshawa earned the right to host by winning a "Super Series" between themselves and the champions of the Emms Division, the North Bay Centennials. Given that Oshawa defeated North Bay in the OHL finals as well, only three teams participated that year. Participating teams were the Ontario Hockey League champion and host Oshawa Generals, as well as the winners of the Quebec Major Junior Hockey League and Western Hockey League which were the Longueuil Chevaliers and Medicine Hat Tigers. Medicine Hat won their first Memorial Cup, defeating Oshawa in the final game.
Round-robin standings
Edit
Round-robin
May 9 Oshawa 3-2 Longueuil
May 10 Oshawa 5-3 Medicine Hat
May 11 Medicine Hat 4-2 Longueuil
May 12 Oshawa 6-3 Longueuil
Semi-final
May 13 Medicine Hat 6-0 Longueuil
May 14 Medicine Hat 3-1 Longueuil
Final
May 15 Medicine Hat 6-2 Oshawa
Winning roster
Edit
Ron Bonora, Neil Brady, Dean Chynoweth, Rob DiMaio, Rocky Dundas, Mark Fitzpatrick, Kelly Hitchins, Jamie Huscroft, Wayne Hynes, Kevin Knopp, Mark Kuntz, Dale Kushner, Kirby Lindal, Trevor Linden, Mike MacWilliam, Wayne McBean, Scott McCrady, Mark Pederson, Guy Phillips, Jeff Wenaas, Keith Van Rooyen, Rod Williams. Coach: Bryan Maxwell
Award winners
Edit
All-star team
Team Photos
Edit
Ad blocker interference detected!
Wikia is a free-to-use site that makes money from advertising. We have a modified experience for viewers using ad blockers

Wikia is not accessible if you've made further modifications. Remove the custom ad blocker rule(s) and the page will load as expected.