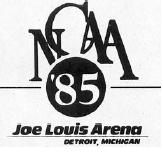 The 1985 Frozen Four was held March 28-30, 1985 in Detroit, Michigan at Joe Louis Arena.
The participants were:
The Engineers of RPI won their first national championship in 32 years, defeating the Providence Friars 2-1. It was their second overall title.
Providence goaltender Chris Terreri was named the tournament's Most Outstanding Player. It was the first time since 1960 that a player from a team other than the championship team was given the honor, and as of 2004, has not occurred since.
For the second straight year, three of the four games in the tournament went into overtime.
All-Tournament Team
Edit
Most Outstanding Player: G Chris Terreri, Providence
Team Photos
Edit

This entry is a stub. You can help the Ice Hockey Wiki by expanding it. Click the "edit" button to add information.
Ad blocker interference detected!
Wikia is a free-to-use site that makes money from advertising. We have a modified experience for viewers using ad blockers

Wikia is not accessible if you've made further modifications. Remove the custom ad blocker rule(s) and the page will load as expected.