Ad blocker interference detected!
Wikia is a free-to-use site that makes money from advertising. We have a modified experience for viewers using ad blockers

Wikia is not accessible if you've made further modifications. Remove the custom ad blocker rule(s) and the page will load as expected.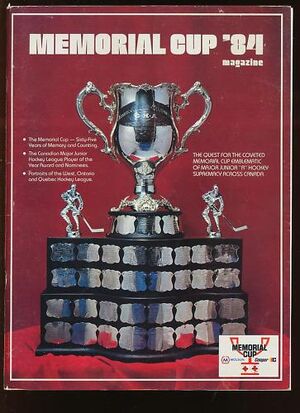 The 1984 Memorial Cup occurred May 12-May 19 at the Kitchener Memorial Auditorium in Kitchener, Ontario. Participating teams were the host team Kitchener Rangers, as well as the winners of the Ontario Hockey League, Quebec Major Junior Hockey League and Western Hockey League which were the Ottawa 67's, Laval Voisins and Kamloops Jr. Oilers. Ottawa won their first Memorial Cup, defeating Kitchener in the final game.
Round-robin standings
Edit
Round-robin
May 12 Kitchener 8-2 Laval
May 13 Kitchener 9-7 Kamloops
May 13 Ottawa 6-5 Laval
May 14 Ottawa 5-1 Kamloops
May 15 Kamloops 4-3 Laval
May 16 Kitchener 7-2 Ottawa
Semi-final
May 18 Ottawa 7-2 Kamloops
Final
May 19 Ottawa 7-2 Kitchener
Winning roster
Edit
Richard Adolfi, Bill Bennett, Bruce Cassidy, Todd Clarke, Greg Coram, Adam Creighton, Bob Giffin, Scott Hammond, John Hanna, Tim Helmer, Mike James, Steve Hrynewich, Don McLaren, Roy Myllari, Darren Pang, Mark Paterson, Phil Patterson, Gary Roberts, Darcy Roy, Brad Shaw, Steve Simoni. Coach: Brian Kilrea
Award winners
Edit
All-star team