1983 World Junior Ice Hockey Championships
Talk

0
Share
Ad blocker interference detected!
Wikia is a free-to-use site that makes money from advertising. We have a modified experience for viewers using ad blockers

Wikia is not accessible if you've made further modifications. Remove the custom ad blocker rule(s) and the page will load as expected.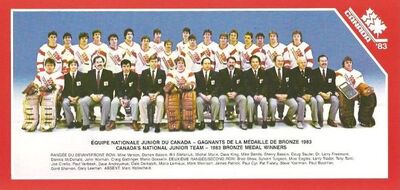 The 1983 World Junior Ice Hockey Championships (1983 WJHC) was the 7th edition of the World Junior Ice Hockey Championships and was held in Leningrad, Soviet Union between December 26, 1982 and January 4, 1983. The host Soviet team won the tournament with a perfect 7–0 record.
Tournament results
Edit
The tournament was a round-robin format, with each team playing each of the other seven teams once each.
Rank
Team
GP
W
L
T
GF
GA
Pts
 Soviet Union
7
7
0
0
50
15
14
—
4–3
7–3
5–1
5–3
7–2
12–2
10–1
 Czechoslovakia
7
5
1
1
43
22
11
3–4
—
7–7
4–2
6–4
5–3
9–0
9–2
Canada
7
4
2
1
39
24
9
3–7
7–7
—
2–5
4–2
6–3
4–0
13–0
4
 Sweden
7
4
3
0
35
23
8
1–5
2–4
5–2
—
4–1
4–6
4–2
15–3
5
 United States of America
7
3
4
0
28
29
6
3–5
4–6
2–4
1–4
—
4–2
6–5
8–3
6
 Finland
7
3
4
0
35
29
6
2–7
3–5
3–6
6–4
2–4
—
9–1
10–2
7
 West Germany
7
1
6
0
14
46
2
2–12
0–9
0–4
2–4
5–6
1–9
—
4–2
8
 Norway
7
0
7
0
13
69
0
1–10
2–9
0–13
3–15
3–8
2–10
2–4
—
Scoring leaders
Edit
All-star team
Edit
Goaltender

Defencemen

Forwards
References
Edit