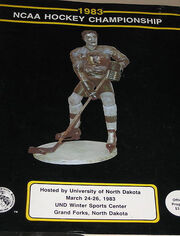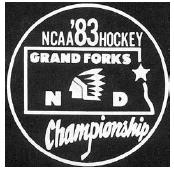 The 1983 Frozen Four was held March 24-26, 1983 in Grand Forks, North Dakota at the Winter Sports Center.
The participants were:
Harvard became the first Ivy League team to play in the national championship game in a decade, but lost the title to Wisconsin, playing in their third straight title match. The Badgers won their fourth title overall, defeating the Crimson 6-2.
All-Tournament Team
Edit
G Marc Behrend, Wisconsin
D Chris Chelios, Wisconsin
D Marc Fusco, Harvard
F Pat Flatley, Wisconsin
F Scott Fusco, Harvard
F Paul Houck, Wisconsin
Most Outstanding Player: G Marc Behrend, Wisconsin
Team Photos
Edit
Ad blocker interference detected!
Wikia is a free-to-use site that makes money from advertising. We have a modified experience for viewers using ad blockers

Wikia is not accessible if you've made further modifications. Remove the custom ad blocker rule(s) and the page will load as expected.