Ad blocker interference detected!
Wikia is a free-to-use site that makes money from advertising. We have a modified experience for viewers using ad blockers

Wikia is not accessible if you've made further modifications. Remove the custom ad blocker rule(s) and the page will load as expected.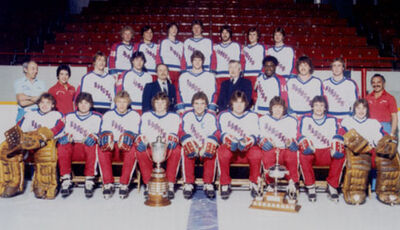 The 1982 Memorial Cup occurred May 8-May 15 at the Robert Guertin Arena in Hull, Quebec. Participating teams were the winners of the Ontario Hockey League, Quebec Major Junior Hockey League and Western Hockey League which were the Kitchener Rangers, Sherbrooke Castors and Portland Winter Hawks. Kitchener won their first Memorial Cup, defeating Sherbrooke in the final game.
Round-robin standings
Edit
Round-robin
May 8 Sherbrooke 10-4 Kitchener
May 9 Kitchener 9-2 Portland
May 10 Portland 6-5 Sherbrooke
May 11 Kitchener 4-0 Sherbrooke
May 12 Portland 4-2 Kitchener
May 13 Sherbrooke 7-3 Portland
Final
May 15 Kitchener 7-4 Sherbrooke
Winning roster
Edit
Brian Bellows, Darryl Boudreau, Kevin Casey, Louis Crawford, Mike Eagles, Mike Hough, Jeff Larmer, Joel Levesque, Al MacInnis, Grant Martin, Mario Michieli, Mike Moher, Dave Nicholls, Jim Ralph, Robert Savard, Brad Schnurr, Dave Shaw, Scott Stevens, John Tucker, Wendell Young. Coach: Joe Crozier
Award winners
Edit
All-star team