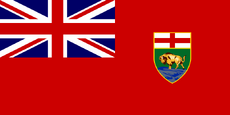 For the 1980-81 season, Manitoba Amateur Hockey Association instructed the Brandon Junior B's to playoff with the Morris Cowboys. The winner to meet the champion of the Manitoba Junior B Hockey League, the Transcona Railers, for the Provincial Championship, the Baldy Northcott Trophy.






1981 Provincial Semi Final
Game
Visitors
Goals
Home Team
Goals
Date
Venue
1
Morris
2
Brandon
17
Wednesday, March 4, 1981
Keystone Centre
2
Brandon
10
Morris
1
Friday, March 6, 1981
Morris
Brandon Junior B's defeated Morris Cowboys
Note: unsure if series continued, it was to be the Best of 5.


1981 Baldy Northcott Trophy Championship
Game
Visitors
Goals
Home Team
Goals
Date
Venue
1
Transcona
7
Brandon
8
Friday, March 27, 1981
Brandon Sportsplex
2
Brandon
7
Transcona
8
Sunday, March 29, 1981
Roland Michener Arena
3
Transcona
8
Brandon
9
Friday, April 3, 1981
Brandon Sportsplex
4
Brandon
5
Transcona
8
Sunday, April 5, 1981
Roland Michener Arena
5
Transcona
3
Brandon
12
Thursday, April 9, 1981
Keystone Centre
Brandon Junior B's defeated Transcona Railers 3-games-to-2
Brandon Junior B's won the Baldy Northcott Trophy and advanced to the
1981 Western Canada Junior B Championship