Ad blocker interference detected!
Wikia is a free-to-use site that makes money from advertising. We have a modified experience for viewers using ad blockers

Wikia is not accessible if you've made further modifications. Remove the custom ad blocker rule(s) and the page will load as expected.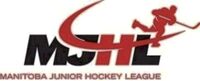 This is the 1980-81 Manitoba Junior Hockey League Season.
League Notes
Edit
MJHL expands to Winkler, as Winkler Flyers join North Division.
Brandon Travellers granted a one year leave of absence.
Regular Season
Edit
 
Division Semi-Finals
Division Finals
Final
 
 
 
 
 
 
 
 
 
 
 
 
 
 
 
1
 Selkirk Steelers
4
 
S5
 Kildonan North Stars
0
 
 
1
 Selkirk Steelers
4
 
North Division
 
3
 Dauphin Kings
1
 
2
 Portage Terriers
0
 
3
 Dauphin Kings
4
 
 
 
1
 Selkirk Steelers
1
 
1
 St. Boniface Saints
4
 
1
 St. Boniface Saints
4
 
4
 Kenora Thistles
0
 
1
 St. Boniface Saints
4
South Division
 
2
 St. James Canadians
1
 
2
 St. James Canadians
4
 
3
 Fort Garry Blues
1
 
Manitoba Championship
Edit
Turnbull Cup Championship
St. Boniface defeated Thompson King Miners (NJHL) 3-games-to-none
see 1981 Turnbull Cup
Manitoba / Saskatchewan Playoff
Edit
Anavet Cup Championship
St. Boniface lost to Prince Albert Raiders (SJHL) 4-games-to-1
see 1981 Anavet Cup
League Leaders
Edit
All-Star Teams
Edit
First All-Star Team
Rick Lindquist • Darren Boyko • Joe Tataryn
Kenora Thistles • St. Boniface Saints • St. Boniface Saints
George Chase • Terry Kalawarny
St. James Canadians • Selkirk Steelers
Mark Storiman
St. Boniface Saints
Coach
Joe Cyr
St. Boniface Saints
Second All-Star Team
Shane Moffatt • Dale Krentz • Luc St. Mars
Portage Terriers • Selkirk Steelers • St. James Canadians
George Griffiths • Rick Strachan
Dauphin Kings • Fort Garry Blues
Les Kehler
Selkirk Steelers
Coach
Rod Collins
Winkler Flyers