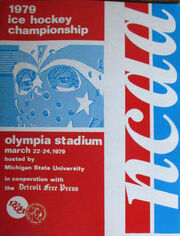 The 1979 Frozen Four was held March 22-24, 1979 in Detroit, Michigan at Olympia Stadium.
The participants were:
The Minnesota Golden Gophers won their third national title, defeating the Fighting Sioux of North Dakota 4-3.
Minnesota head coach Herb Brooks would later be named to coach the 1980 US Olympic Team.
Quarterfinals
Semifinals
Finals
Minnesota
6
Bowling Green
3
New Hampshire
3
Minnesota
4
Minnesota
4
North Dakota
3
North Dakota
4
Dartmouth
2
Consolation Game Dartmouth 7, New Hampshire 3
All-Tournament Team
Edit
G Steve Janaszak, Minnesota
D Mike Ramsey, Minnesota
D Howard Walker, North Dakota
F Steve Christoff, Minnesota
F Eric Strobel, Minnesota
F Mark Taylor, North Dakota
Most Outstanding Player: G Steve Janaszak, Minnesota
Team Photos
Edit