Ad blocker interference detected!
Wikia is a free-to-use site that makes money from advertising. We have a modified experience for viewers using ad blockers

Wikia is not accessible if you've made further modifications. Remove the custom ad blocker rule(s) and the page will load as expected.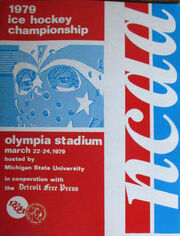 The 1979 Frozen Four was held March 22-24, 1979 in Detroit, Michigan at Olympia Stadium.
The participants were:
The Minnesota Golden Gophers won their third national title, defeating the Fighting Sioux of North Dakota 4-3.
Minnesota head coach Herb Brooks would later be named to coach the 1980 US Olympic Team.
Quarterfinals
Semifinals
Finals
Minnesota
6
Bowling Green
3
New Hampshire
3
Minnesota
4
Minnesota
4
North Dakota
3
North Dakota
4
Dartmouth
2
Consolation Game Dartmouth 7, New Hampshire 3
All-Tournament Team
Edit
G Steve Janaszak, Minnesota
D Mike Ramsey, Minnesota
D Howard Walker, North Dakota
F Steve Christoff, Minnesota
F Eric Strobel, Minnesota
F Mark Taylor, North Dakota
Most Outstanding Player: G Steve Janaszak, Minnesota
Team Photos
Edit