Ad blocker interference detected!
Wikia is a free-to-use site that makes money from advertising. We have a modified experience for viewers using ad blockers

Wikia is not accessible if you've made further modifications. Remove the custom ad blocker rule(s) and the page will load as expected.
The 1978 Ice Hockey World Championships took place in Prague, Czechoslovakia from 26th April to 14th May. Eight teams took part, with each team playing each other once in the first round, and then the four best teams meeting in a new round. This was the 45th World Championships, and also the 56th ice hockey European Championships.
First round
Edit
26 April
Sweden
6-2
West Germany
26 April
Czechoslovakia
8-0
East Germany
26 April
Soviet Union
9-5
United States
27 April
Finland
6-4
Canada
27 April
Soviet Union
7-4
West Germany
27 April
Sweden
5-1
United States
28 April
Czechoslovakia
6-4
Finland
28 April
Canada
6-2
East Germany
29 April
Sweden
10-1
East Germany
29 April
Czechoslovakia
8-2
West Germany
30 April
Canada
7-2
United States
30 April
Soviet Union
6-3
Finland
01 May
Canada
6-2
West Germany
01 May
Soviet Union
10-2
East Germany
02 May
Czechoslovakia
8-3
United States
02 May
Sweden
6-1
Finland
03 May
West Germany
7-4
United States
03 May
East Germany
4-3
Finland
04 May
Czechoslovakia
5-0
Canada
04 May
Soviet Union
6-1
Sweden
05 May
West Germany
5-3
Finland
05 May
United States
7-3
East Germany
06 May
Czechoslovakia
6-4
Soviet Union
07 May
East Germany
1-1
West Germany
07 May
Finland
3-3
United States
08 May
Czechoslovakia
3-2
Sweden
08 May
Soviet Union
4-2
Canada
Final Round 1-4 place
Edit
| | Team | Games | Won | Drawn | Lost | Points difference | Points |
| --- | --- | --- | --- | --- | --- | --- | --- |
| 1 | Soviet Union | 10 | 9 | 0 | 1 | 61 - 26 | 18 |
| 2 | Czechoslovakia | 10 | 9 | 0 | 1 | 54 - 21 | 18 |
| 3 | Canada | 10 | 5 | 0 | 5 | 38 - 36 | 10 |
| 4 | Sweden | 10 | 4 | 0 | 6 | 39 - 37 | 8 |
10 May
Soviet Union
5-1
Canada
10 May
Czechoslovakia
6-1
Sweden
12 May
Czechoslovakia
3-2
Canada
12 May
Soviet Union
7-1
Sweden
14 May
Soviet Union
3-1
Czechoslovakia
Consolation Round 5-8 place
Edit
| | Team | Games | Won | Drawn | Lost | Points difference | Points |
| --- | --- | --- | --- | --- | --- | --- | --- |
| 5 | West Germany | 10 | 3 | 3 | 4 | 35 - 43 | 9 |
| 6 | United States | 10 | 2 | 2 | 6 | 38 - 58 | 6 |
| 7 | Finland | 10 | 2 | 2 | 6 | 37 - 44 | 6 |
| 8 | East Germany | 10 | 1 | 3 | 6 | 20 - 57 | 5 |
09 May
Finland
4-4
West Germany
09 May
United States
5-5
East Germany
11 May
West Germany
0-0
East Germany
11 May
United States
4-3
Finland
13 May
West Germany
8-4
United States
13 May
Finland
7-2
East Germany
World Championship Group B (Yugoslavia)
Edit
17 March
Switzerland
1-8
Poland
17 March
Romania
6-4
Norway
17 March
Yugoslavia
2-4
Hungary
18 March
Hungary
4-3
Norway
18 March
Yugoslavia
2-5
Poland
19 March
Romania
5-5
Italy
19 March
Japan
1-6
Switzerland
20 March
Hungary
1-2
Japan
20 March
Romania
3-7
Switzerland
20 March
Norway
4-9
Poland
20 March
Yugoslavia
3-12
Italy
21 March
Poland
7-2
Hungary
21 March
Yugoslavia
1-7
Norway
22 March
Japan
5-2
Romania
22 March
Italy
4-7
Switzerland
23 March
Hungary
0-8
Romania
23 March
Switzerland
6-6
Norway
23 March
Italy
2-12
Poland
23 March
Yugoslavia
1-6
Japan
25 March
Switzerland
12-5
Hungary
25 March
Norway
4-3
Italy
25 March
Poland
2-2
Japan
25 March
Yugoslavia
0-11
Romania
26 March
Norway
1-5
Japan
26 March
Italy
2-5
Hungary
26 March
Yugoslavia
5-3
Switzerland
26 March
Poland
8-6
Romania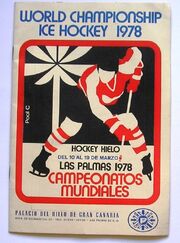 World Championship Group C (Spain)Edit
| | Team | Games | Won | Drawn | Lost | Points difference | Points |
| --- | --- | --- | --- | --- | --- | --- | --- |
| 17 | Netherlands | 7 | 6 | 1 | 0 | 74 - 17 | 13 |
| 18 | Austria | 7 | 5 | 1 | 1 | 65 - 31 | 11 |
| 19 | Denmark | 7 | 4 | 1 | 2 | 59 - 25 | 9 |
| 20 | China | 7 | 4 | 0 | 3 | 47 - 30 | 8 |
| 21 | Bulgaria | 7 | 3 | 1 | 3 | 27 - 30 | 7 |
| 22 | France | 7 | 3 | 0 | 4 | 46 - 39 | 6 |
| 23 | Spain | 7 | 1 | 0 | 6 | 26 - 84 | 2 |
| 24 | Belgium | 7 | 0 | 0 | 7 | 13 - 101 | 0 |
10 March
China
8-4
France
10 March
Netherlands
18-3
Belgium
10 March
Austria
7-4
Denmark
10 March
Spain
2-7
Bulgaria
12 March
China
3-2
Denmark
12 March
Austria
9-7
France
12 March
Spain
11-4
Belgium
12 March
Bulgaria
0-8
Netherlands
13 March
China
12-1
Belgium
13 March
Denmark
7-6
France
13 March
Spain
0-19
Netherlands
13 March
Austria
3-3
Bulgaria
15 March
Bulgaria
10-3
Belgium
15 March
Netherlands
12-3
France
15 March
Austria
9-4
China
15 March
Spain
2-10
Denmark
16 March
Netherlands
3-3
Denmark
16 March
France
9-0
Belgium
16 March
Spain
4-14
Austria
16 March
China
2-4
Bulgaria
18 March
Austria
19-1
Belgium
18 March
Denmark
8-3
Bulgaria
18 March
Spain
3-13
France
18 March
China
4-6
Netherlands
19 March
Denmark
22-1
Belgium
19 March
Bulgaria
0-4
France
19 March
Austria
4-8
Netherlands
19 March
Spain
4-14
China
World Championships
Edit
European Championships Medal Table
Edit