Ad blocker interference detected!
Wikia is a free-to-use site that makes money from advertising. We have a modified experience for viewers using ad blockers

Wikia is not accessible if you've made further modifications. Remove the custom ad blocker rule(s) and the page will load as expected.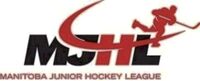 This is the 1978-79 Manitoba Junior Hockey League Season.
League Notes
Edit
Winnipeg Monarchs are sold, relocated to Fort Garry and renamed Fort Garry Blues.
Regular Season
Edit
Feb. 16 game, Fort Garry at Selkirk, was cancelled after the ice plant broke down.
 
Division Semi-Finals
Division Finals
Turnbull Cup Championship
 
 
 
 
 
 
 
 
 
 
 
 
 
 
 
1
 Selkirk Steelers
4
 
4
 Brandon Travellers
2
 
 
1
 Selkirk Steelers
4
 
North Division
 
2
 Portage Terriers
0
 
2
 Portage Terriers
4
 
3
 Dauphin Kings
3
 
 
 
1
 Selkirk Steelers
4
 
2
 Kildonan North Stars
2
 
1
 St. James Canadians
1
 
4
 St. Boniface Saints
4
 
4
 St. Boniface Saints
0
South Division
 
2
 Kildonan North Stars
4
 
2
 Kildonan North Stars
4
 
3
 Kenora Thistles
3
 
Manitoba / Saskatchewan Playoff
Edit
Anavet Cup Championship
Selkirk lost to Prince Albert Raiders (SJHL) 4-games-to-1
see 1979 Anavet Cup
League Leaders
Edit
CAHA Award
Edit
All-Star Team
Edit
All-Star Team
Kevin Lunney • Larry Beck • Craig MacLeod
Kildonan North Stars • Kenora Thistles • Selkirk Steelers
Mike Demare • Rich Little
St. Boniface Saints • Dauphin Kings
Karl Friesen
Kildonan North Stars
Coach
Bob Woytowich
Selkirk Steelers