Ad blocker interference detected!
Wikia is a free-to-use site that makes money from advertising. We have a modified experience for viewers using ad blockers

Wikia is not accessible if you've made further modifications. Remove the custom ad blocker rule(s) and the page will load as expected.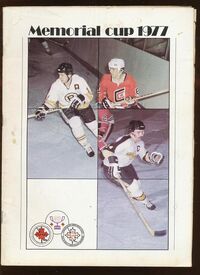 The 1977 Memorial Cup occurred May 8-May 14 at the Pacific Coliseum in Vancouver, British Columbia. Participating teams were the winners of the Ontario Major Junior Hockey League, Quebec Major Junior Hockey League and Western Hockey League which were the Ottawa 67's, Sherbrooke Castors and New Westminster Bruins.
New Westminster won their first Memorial Cup, defeating Ottawa in the final game. This was also the first Memorial Cup won by a team from British Columbia.
Round-robin standings
Edit
Round-robin
May 8 New Westminster 7-6 Ottawa
May 9 New Westminster 4-2 Sherbrooke
May 10 Ottawa 6-1 Sherbrooke
May 11 Ottawa 4-3 New Westminster (OT)
May 12 New Westminster 4-2 Sherbrooke
May 13 Ottawa 5-2 Sherbrooke
Final
May 14 New Westminster 6-5 Ottawa
Winning roster
Edit
Bruce Andres, Barry Beck, Jerry Bell, Randy Betty, Ray Creasy, Larry Dean, Doug Derkson, Don Hobbins, John-Paul Kelly, Mark Lofthouse, Brad Maxwell, Dave Orleski, Blaine Peterson, Randy Rudnyk, Stan Smyl, Carl Van Harrewyn, Carey Walker, Brian Young, Miles Zaharko. Coach: Ernie McLean
Award winners
Edit
All-star team