Ad blocker interference detected!
Wikia is a free-to-use site that makes money from advertising. We have a modified experience for viewers using ad blockers

Wikia is not accessible if you've made further modifications. Remove the custom ad blocker rule(s) and the page will load as expected.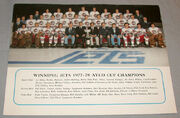 The 1977–78 Winnipeg Jets season was the Jets sixth season of operation in the World Hockey Association (WHA). The Jets, finalists in 1977, qualified first for the playoffs and the championship against the New England Whalers in the Final. It was the Jets' second Avco Cup win.
Offseason
Edit
Regular season
Edit
Final standings
Edit
Note: W = Wins, L = Losses, T = Ties, GF= Goals For, GA = Goals Against, Pts = Points
| No. | R | Date | Score | Opponent | Record |
| --- | --- | --- | --- | --- | --- |
| 1 | W | October 12, 1977 | 7–3 | @ Edmonton Oilers (1977–78) | 1–0–0 |
| 2 | W | October 13, 1977 | 5–2 | Quebec Nordiques (1977–78) | 2–0–0 |
| 3 | W | October 15, 1977 | 5–4 | @ Cincinnati Stingers (1977–78) | 3–0–0 |
| 4 | W | October 16, 1977 | 9–1 | Indianapolis Racers (1977–78) | 4–0–0 |
| 5 | L | October 21, 1977 | 2–5 | New England Whalers (1977–78) | 4–1–0 |
| 6 | W | October 23, 1977 | 10–3 | Birmingham Bulls (1977–78) | 5–1–0 |
| 7 | L | October 26, 1977 | 3–5 | @ Indianapolis Racers (1977–78) | 5–2–0 |
| 8 | W | October 28, 1977 | 3–2 | Cincinnati Stingers (1977–78) | 6–2–0 |
| 9 | W | October 30, 1977 | 5–2 | Edmonton Oilers (1977–78) | 7–2–0 |
| 10 | W | November 2, 1977 | 6–3 | @ Edmonton Oilers (1977–78) | 8–2–0 |
| 11 | W | November 4, 1977 | 4–2 | @ Birmingham Bulls (1977–78) | 9–2–0 |
| 12 | W | November 5, 1977 | 6–1 | @ Cincinnati Stingers (1977–78) | 10–2–0 |
| 13 | W | November 9, 1977 | 4–3 | Houston Aeros (1977–78) | 11–2–0 |
| 14 | L | November 11, 1977 | 2–3 OT | Quebec Nordiques (1977–78) | 11–3–0 |
| 15 | L | November 13, 1977 | 2–3 | Cincinnati Stingers (1977–78) | 11–4–0 |
| 16 | L | November 15, 1977 | 6–7 OT | @ Quebec Nordiques (1977–78) | 11–5–0 |
| 17 | T | November 16, 1977 | 2–2 | Birmingham Bulls (1977–78) | 11–5–1 |
| 18 | L | November 18, 1977 | 2–3 | @ New England Whalers (1977–78) | 11–6–1 |
| 19 | W | November 19, 1977 | 6–4 | @ Indianapolis Racers (1977–78) | 12–6–1 |
| 20 | L | November 22, 1977 | 2–4 | @ Edmonton Oilers (1977–78) | 12–7–1 |
| 21 | L | November 27, 1977 | 3–4 OT | Birmingham Bulls (1977–78) | 12–8–1 |
| 22 | L | December 2, 1977 | 1–4 | @ New England Whalers (1977–78) | 12–9–1 |
| 23 | L | December 3, 1977 | 5–6 | @ Quebec Nordiques (1977–78) | 12–10–1 |
| 24 | L | December 4, 1977 | 2–3 | Edmonton Oilers (1977–78) | 12–11–1 |
| 25 | W | December 7, 1977 | 5–2 | Houston Aeros (1977–78) | 13–11–1 |
| 26 | L | December 9, 1977 | 3–4 OT | Cincinnati Stingers (1977–78) | 13–12–1 |
| 27 | W | December 11, 1977 | 7–1 | Indianapolis Racers (1977–78) | 14–12–1 |
| 28 | W | December 13, 1977 | 5–1 | Czechoslovakia (1977–78) | 15–12–1 |
| 29 | W | December 17, 1977 | 6–3 | @ New England Whalers (1977–78) | 16–12–1 |
| 30 | W | December 18, 1977 | 7–3 | New England Whalers (1977–78) | 17–12–1 |
| 31 | W | December 20, 1977 | 6–4 | Soviet All-Stars (1977–78) | 18–12–1 |
| 32 | W | December 21, 1977 | 4–3 | @ Houston Aeros (1977–78) | 19–12–1 |
| 33 | W | December 23, 1977 | 6–4 | @ Cincinnati Stingers (1977–78) | 20–12–1 |
| 34 | W | December 26, 1977 | 9–4 | Quebec Nordiques (1977–78) | 21–12–1 |
| 35 | W | January 6, 1978 | 4–1 | @ Edmonton Oilers (1977–78) | 22–12–1 |
| 36 | W | January 8, 1978 | 4–2 | Indianapolis Racers (1977–78) | 23–12–1 |
| 37 | W | January 11, 1978 | 11–2 | Birmingham Bulls (1977–78) | 24–12–1 |
| 38 | L | January 13, 1978 | 2–3 | @ Houston Aeros (1977–78) | 24–13–1 |
| 39 | W | January 14, 1978 | 6–3 | @ Indianapolis Racers (1977–78) | 25–13–1 |
| 40 | L | January 15, 1978 | 3–4 OT | Edmonton Oilers (1977–78) | 25–14–1 |
| 41 | W | January 18, 1978 | 5–1 | Quebec Nordiques (1977–78) | 26–14–1 |
| 42 | T | January 20, 1978 | 4–4 | New England Whalers (1977–78) | 26–14–2 |
| 43 | L | January 22, 1978 | 4–5 | Indianapolis Racers (1977–78) | 26–15–2 |
| 44 | L | January 25, 1978 | 2–6 | @ Birmingham Bulls (1977–78) | 26–16–2 |
| 45 | L | January 26, 1978 | 1–2 OT | @ Houston Aeros (1977–78) | 26–17–2 |
| 46 | L | January 28, 1978 | 5–8 | @ Birmingham Bulls (1977–78) | 26–18–2 |
| 47 | W | January 29, 1978 | 8–4 | @ Cincinnati Stingers (1977–78) | 27–18–2 |
| 48 | W | January 31, 1978 | 7–2 | @ Quebec Nordiques (1977–78) | 28–18–2 |
| 49 | W | February 4, 1978 | 7–5 | @ Cincinnati Stingers (1977–78) | 29–18–2 |
| 50 | W | February 5, 1978 | 4–3 | Edmonton Oilers (1977–78) | 30–18–2 |
| 51 | W | February 8, 1978 | 9–0 | Birmingham Bulls (1977–78) | 31–18–2 |
| 52 | W | February 10, 1978 | 10–2 | Cincinnati Stingers (1977–78) | 32–18–2 |
| 53 | W | February 11, 1978 | 5–3 | @ Indianapolis Racers (1977–78) | 33–18–2 |
| 54 | W | February 12, 1978 | 6–5 | @ Houston Aeros (1977–78) | 34–18–2 |
| 55 | W | February 15, 1978 | 6–5 | Edmonton Oilers (1977–78) | 35–18–2 |
| 56 | W | February 16, 1978 | 2–1 OT | @ New England Whalers (1977–78) | 36–18–2 |
| 57 | W | February 18, 1978 | 4–0 | @ Cincinnati Stingers (1977–78) | 37–18–2 |
| 58 | W | February 19, 1978 | 5–2 | Quebec Nordiques (1977–78) | 38–18–2 |
| 59 | W | February 22, 1978 | 4–2 | New England Whalers (1977–78) | 39–18–2 |
| 60 | W | February 24, 1978 | 7–2 | New England Whalers (1977–78) | 40–18–2 |
| 61 | W | February 26, 1978 | 9–6 | Houston Aeros (1977–78) | 41–18–2 |
| 62 | L | March 1, 1978 | 3–4 | @ Birmingham Bulls (1977–78) | 41–19–2 |
| 63 | L | March 3, 1978 | 1–5 | Cincinnati Stingers (1977–78) | 41–20–2 |
| 64 | L | March 4, 1978 | 6–8 | @ Indianapolis Racers (1977–78) | 41–21–2 |
| 65 | L | March 5, 1978 | 3–4 | Houston Aeros (1977–78) | 41–22–2 |
| 66 | W | March 9, 1978 | 6–5 | Indianapolis Racers (1977–78) | 42–22–2 |
| 67 | W | March 11, 1978 | 7–4 | @ Quebec Nordiques (1977–78) | 43–22–2 |
| 68 | W | March 12, 1978 | 3–2 | Birmingham Bulls (1977–78) | 44–22–2 |
| 69 | W | March 15, 1978 | 8–4 | Edmonton Oilers (1977–78) | 45–22–2 |
| 70 | L | March 17, 1978 | 2–6 | @ Edmonton Oilers (1977–78) | 45–23–2 |
| 71 | W | March 19, 1978 | 5–3 | Quebec Nordiques (1977–78) | 46–23–2 |
| 72 | W | March 22, 1978 | 5–3 | @ New England Whalers (1977–78) | 47–23–2 |
| 73 | W | March 25, 1978 | 3–1 | @ Birmingham Bulls (1977–78) | 48–23–2 |
| 74 | L | March 28, 1978 | 3–5 | @ Houston Aeros (1977–78) | 48–24–2 |
| 75 | W | March 30, 1978 | 4–1 | @ Indianapolis Racers (1977–78) | 49–24–2 |
| 76 | L | April 1, 1978 | 2–5 | @ Quebec Nordiques (1977–78) | 49–25–2 |
| 77 | L | April 4, 1978 | 3–6 | @ Houston Aeros (1977–78) | 49–26–2 |
| 78 | W | April 6, 1978 | 7–4 | New England Whalers (1977–78) | 50–26–2 |
| 79 | L | April 7, 1978 | 2–4 | @ Edmonton Oilers (1977–78) | 50–27–2 |
| 80 | L | April 9, 1978 | 4–5 | Houston Aeros (1977–78) | 50–28–2 |
Player stats
Edit
Regular season
Edit
Scoring
Goaltending
Scoring
Goaltending
| Player | MIN | GP | W | L | GA | GAA | SO |
| --- | --- | --- | --- | --- | --- | --- | --- |
| Gary Bromley | 268 | 5 | 4 | 0 | 7 | 1.57 | 0 |
| Joe Daley | 271 | 5 | 4 | 1 | 13 | 2.88 | 0 |
| Team: | 539 | 9 | 8 | 1 | 20 | 2.23 | 0 |
Note: GP = Games played; G = Goals; A = Assists; Pts = Points; +/- = Plus/Minus; PIM = Penalty Minutes; PPG=Power-play goals; SHG=Short-handed goals; GWG=Game-winning goals
      MIN=Minutes played; W = Wins; L = Losses; T = Ties; GA = Goals Against; GAA = Goals Against Average; SO = Shutouts;
Awards and records
Edit
Transactions
Edit
Draft picks
Edit
Farm teams
Edit
References
Edit
External links
Edit
<