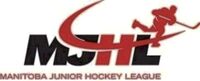 This is the 1976-77 Manitoba Junior Hockey League Season.
League Notes
Edit
West Kildonan name shorted to Kildonan North Stars.
Brian Kozak Memorial Award for Top Defenseman introduced.
Regular Season
Edit
Thompson played 3 four-point games, against St. James, Assiniboine Park, and Selkirk. Thompson lost all 3.
 
Division Semi-Finals
Division Finals
Turnbull Cup Championship
 
 
 
 
 
 
 
 
 
 
 
 
 
 
 
1
 Dauphin Kings
4
 
4
 Thompson King Miners
0
 
 
1
 Dauphin Kings
4
 
North Division
 
2
 Brandon Travellers
0
 
2
 Brandon Travellers
4
 
3
 Selkirk Steelers
3
 
 
 
1
 Dauphin Kings
2
 
1
 Kildonan North Stars
1
 
1
 Kildonan North Stars
4
 
4
 St. James Canadians
1
 
1
 Kildonan North Stars
4
South Division
 
2
 Kenora Thistles
3
 
2
 Kenora Thistles
4
 
3
 St. Boniface Saints
2
 
On April 5, MJHL commissioner Bill Addison called off the Turnbull Cup Finals between the Dauphin Kings and Kildonan North Stars, saying "No, I am not going to allow these characters an opportunity to beat on each other any longer. I am calling the series (a best-of-seven) and awarding it to Dauphin on the basis they won two of the three games completed." The decision came just hours after the two clubs had engaged in a pre-game brawl, in which two Kings players were taken to hospital and two North Stars were criminally charged.


Manitoba / Saskatchewan Playoff
Edit
Anavet Cup Championship
Dauphin lost to Prince Albert Raiders (SJHL) 4-games-to-1
see 1977 Anavet Cup
League Leaders
Edit
League Records
Edit
Scoring Leaders
Edit
All-Star Team
Edit
Dale Maksymyk • Ken Krentz • Jim Misener
Selkirk Steelers • Selkirk Steelers • Dauphin Kings
Dan Bryck • Mark Johnston
Kenora Thistles • Portage Terriers
Jim Tkachuk
Dauphin Kings
Coach
Phil Fafard
Kenora Thistles

in the News
Edit
October
National Hockey League
Edit
World Hockey Association
Edit
Professional Players
Edit
Major Junior Players
Edit
University & College Players
Edit
Ad blocker interference detected!
Wikia is a free-to-use site that makes money from advertising. We have a modified experience for viewers using ad blockers

Wikia is not accessible if you've made further modifications. Remove the custom ad blocker rule(s) and the page will load as expected.