The 1975-76 Ottawa District Intermediate Playoffs were won by the Embrun Panthers.  They went on to win the Col. J. Bourque Trophy as winners of the 1975-76 Eastern Canada Intermediate Playoffs and then win the 1975-76 Hardy Cup Championship.
They defeated the Northern Ontario champion Timmins North Stars in the quarterfinal round.  They defeated the OHA champion Port Colborne Sailors, two games to one in the semi-finals,  They defeated PEI champion Charlottetown GJ's two games to none to win the Col. J. Bourque Trophy and advance to the 1975-76 Hardy Cup Championships
They defeated the Prince George Mohawks to win the Hardy Cup, three games to two.
No information is available on the actual district championships itself.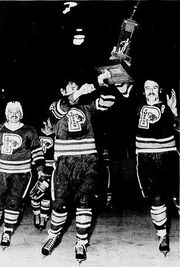 Ad blocker interference detected!
Wikia is a free-to-use site that makes money from advertising. We have a modified experience for viewers using ad blockers

Wikia is not accessible if you've made further modifications. Remove the custom ad blocker rule(s) and the page will load as expected.