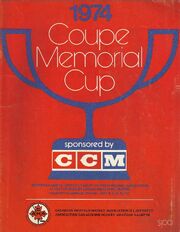 The 1974 Memorial Cup occurred May 5-May 12 at the Stampede Corral in Calgary, Alberta. Participating teams were the winners of the Ontario Hockey Association, Quebec Major Junior Hockey League and Western Hockey League which were the St. Catharines Black Hawks, Quebec Remparts and Regina Pats. Regina won their 4th Memorial Cup, defeating Quebec in the final game.
Round-robin standings
Edit
Round-robin
May 5 St. Catharines 4-1 Quebec
May 6 Regina 4-0 St. Catharines
May 8 Quebec 5-3 Regina
Semi-Final
May 10 Quebec 11-3 St. Catharines
Final
Winning roster
Edit
Bill Bell, Glen Burdon, Drew Callander, Dave Faulkner, Clark Gillies, Jon Hammond, Mike Harazny, Greg Joly, Rob Laird, Bob Leslie, Kim McDougal, Jim Minor, Dennis Sobchuk, Dave Thomas, Rob Tudor, Ed Staniowski, Rick Uhrich, Mike Wanchuk, Mike Wirchowski. Coach: Bob Turner
Award winners
Edit
Team Photos
Edit
Ad blocker interference detected!
Wikia is a free-to-use site that makes money from advertising. We have a modified experience for viewers using ad blockers

Wikia is not accessible if you've made further modifications. Remove the custom ad blocker rule(s) and the page will load as expected.