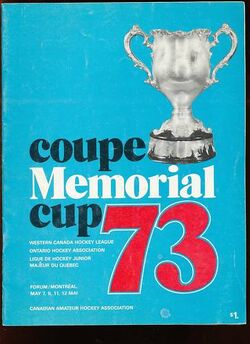 The 1973 Memorial Cup occurred May 7-May 12 at the Montreal Forum in Montreal, Quebec. Participating teams were the winners of the Ontario Hockey Association, Quebec Major Junior Hockey League and Western Hockey League which were the Toronto Marlboros, Quebec Remparts and Medicine Hat Tigers. Toronto won their 6th Memorial Cup, defeating Quebec in the final game.
Round-robin standings
Edit
Round-robin
May 7 Toronto 5-2 Quebec
May 9 Medicine Hat 3-2 Toronto
May 11 Quebec 7-3 Medicine Hat
Final
May 12 Toronto 9-1 Quebec
Winning roster
Edit
Paulin Bordeleau, Bruce Boudreau, Jim Clarke, Bob Dailey, Dick Decloe, Kevin Devine, Wayne Dillon, Tom Edur, Dan Glugosh, Glenn Goldup, Geoff Green, Mark Howe, Marty Howe, John Hughes, Peter Marrin, Kevin Neville, Dennis Owchar, Mike Palmateer, Brad Winton, Jeff Woodyatt. Coach: George Armstrong
Award winners
Edit
Team Photos
Edit
Ad blocker interference detected!
Wikia is a free-to-use site that makes money from advertising. We have a modified experience for viewers using ad blockers

Wikia is not accessible if you've made further modifications. Remove the custom ad blocker rule(s) and the page will load as expected.